A grouper finger might sound like grouper fish has fingers, but that is not true. Grouper fingers is merely a deep-fried grouper dish that many people enjoy, especially those who love this fish. Grouper can be enjoyed in many forms, and this is one of them. If you do not want to have grouper traditionally and want something different, this is perfect for you.
Are Grouper Fingers Good?
Of course, grouper fingers are delicious and there is no dish that is not better deep fried after all. This is a healthy version of typical potato fried and it is high in calories. One serving of grouper fingers has 394 calories. If you love fried food but want to opt for something flakey and less calorie dense, these fingers will fulfill all your cravings. These are typically made with fresh red grouper, which is much sweeter compared to the black grouper and is more widely available. Moreover, make sure to ask for grouper without the skin because the skin is not only inedible for being very tough, but it is also very hard to remove. Getting a fillet will bring down the time and effort spent on making grouper fingers by a ton.
Regardless of how you make these fingers, they will taste great, and since the meat of the grouper is firmer, the fingers will hold the shape well. This will be a great dish to impress anyone or enjoy all alone with a movie turned on.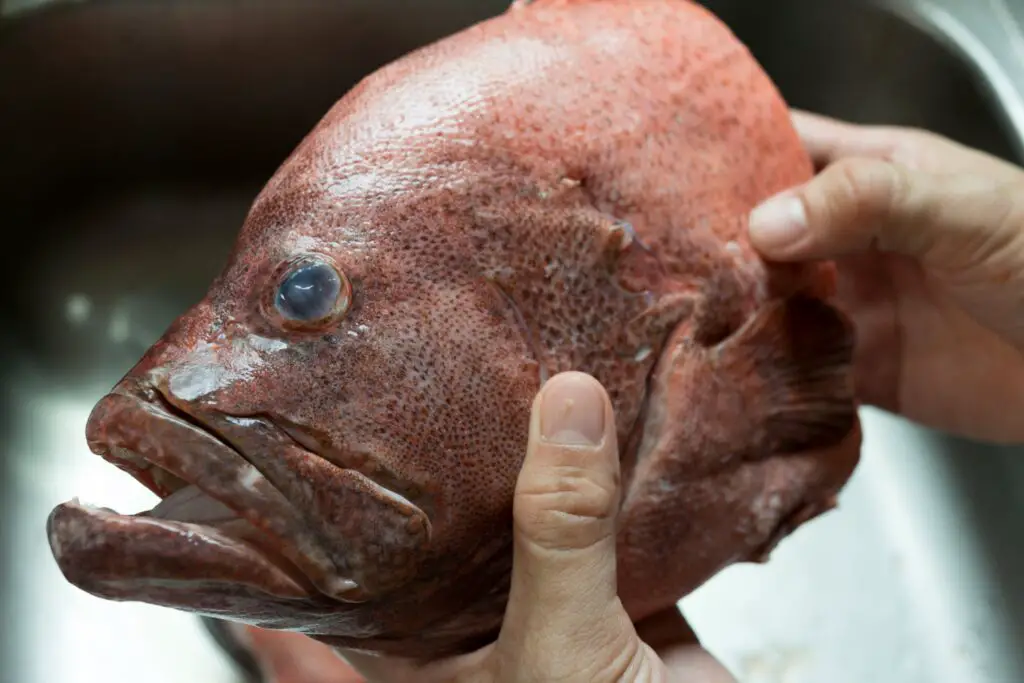 Easy Way to Make Grouper Fingers
This recipe is the simplest one that you can find. It will not take long at all, and the result will be grouper fingers that taste great. It does not take that long to make this recipe either, just five minutes, so let us get started.
Ingredients
1 grouper fish fillet
1 tbsp or up to taste all-purpose seasoning (or you can use salt and pepper)
1 fresh lime
2 cup flour
1 large egg
Vegetable oil to fry
The method
Now that you have collected all the ingredients, here is a simple recipe that anyone can follow. Even if you are someone who has never made anything in the kitchen, this is a pretty easy recipe except for the frying part!
Take the fillet of grouper and cut it into equal-sized fingers
Coat the fingers in half of the lime juice and the all-purpose seasoning until it is fully coated in it
Create a breading station with two bowls
Crack open the egg in one bowl and add the flour to the other bowl
Let the oil heat up completely in a deep-frying pan
Coat the fish fingers in egg first and then the flour until it is fully coated
 Fry the fish in the hot oil until it is fully brown on both sides
Take out the fish fingers on a plate and enjoy alone or with any condiment of choice
Medium Way to Make Grouper Fingers
This is a recipe that is just as simple as the previous recipe, but it requires different ingredients that you might not find at home and takes a longer time. If you are a fan of grouper fingers, these grouper fingers will satisfy your cravings.
Ingredients
1 grouper fillet
½ cup of all-purpose flour
Salt to taste
Pepper to taste
3 large eggs
30 saltine crackers
Vegetable oil
Tropical tartar sauce
The method
If you have collected all the ingredients, you are almost done with the recipe. The number of crackers required is an estimate, so you could potentially need more or less than the amount mentioned above. This recipe does not use any fancy seasoning but tastes just as phenomenal. Here is the recipe:
Cut the fish into stripes to form the fingers
Set up a breading station with three bowls
In one bowl, crack open the eggs and whisk; in the second bowl, combine flour, salt, and pepper, and in the third bowl, add crushed crackers.
Now take the fingers and dip in the flour mixture first, then in eggs, and finally in the cracker crumbs until fully coated.
Put all the fingers in a baking tray and refrigerate for at least an hour
Pour oil into a pan and let it heat before putting the fingers in the oil
Cook them for around two minutes or until golden brown on all sides
Take them out and serve with the tartar sauce
Hard Way to Make Grouper Fingers
This is the longest and most complicated way to make this dish, but it is completely worth it. This professional recipe can take more than four hours to make, so make sure that you are ready to dedicate that time. However, most of the time is spent in the fridge, so it is not that hard either.
Ingredients
1 Grouper fillet
2 tbsp blackening spices
Vegetable oil
8 tbsp corn starch
Salt to taste
½ cup water
2/3rd cup beer
3 egg whites
The method
As you can tell, it requires some different and unique ingredients, so here is the method as well:
 Cut the fillet into strips of equal size
Marinate the strips in blackening spice
Take a bowl and mix cornstarch, flour, and salt; basically, the dry ingredients
In the same bowl, mix the wet ingredients, water, beer, and egg whites
Place the batter in the refrigerator for four hours 
Pour oil into a pan and heat it completely
Take out the batter as well as the fish strips and coat the fish strips with the batter
Put the strips into oil and fry until it is golden brown on both sides
Serve with tartar sauce and hot sauce
Conclusion
Now you know that grouper fillets are an amazing dish that should be eaten by all fish lovers. It is a healthy version of French fries and can also be made in several ways. Thus, you should make grouper fries at least once in your lifetime.