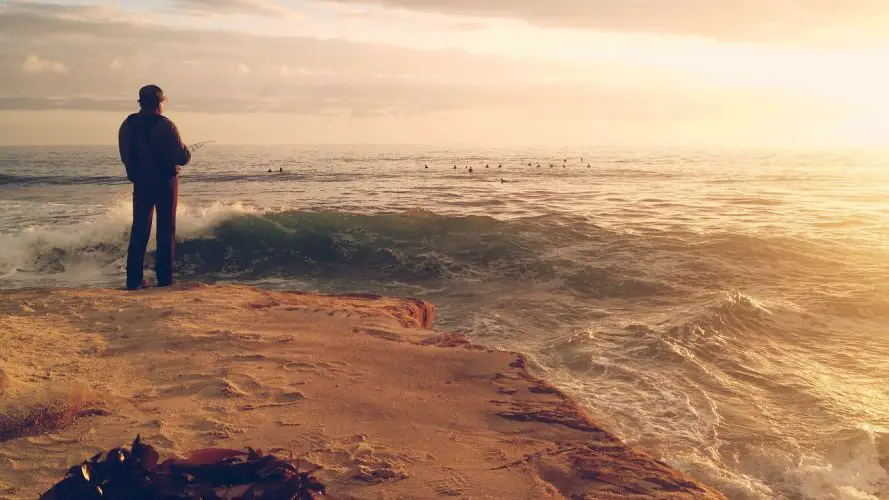 At some point in your fishing career or hobby, you'll need a reel that can match up to
your consistently evolving angling skills. It'll be tricky for you to
successfully catch larger species with a simple spinning reel no matter how
skilled you are. It's essential for your angling equipment to be upgraded to
your skill set. You need the right platform and tools to use your accuracy and
strength. That is where your search for the best saltwater baitcasting reels
begins. However, it's not easy to choose the right baitcasting reels from
thousands in the market.
Top 5 Best Saltwater Baitcasting Reels
When it comes to fishing products, Shimano doesn't joke. They are almost celebrating
their 100-year anniversary, and their goal has always been to provide
uncompromising quality to consumers. And for many decades, they have lived up
to that reputation. Quality products start with quality materials. And
high-grade aluminum, steel, and graphite make up this reel which means it will
have a high level of durability. This model can live to many years while still remaining
functional. The aluminum coated handle has various oversized knobs that give
one plenty of traction and connects to the spool through an aluminum frame. The
reel is generally lightweight, which ensures comfort while you are fishing. As
far as speed is concerned, this is a very fast make with a gear ratio of 7.2 to
1, which complements the 190-yard line capacity. Not to mention the five bearings
race behind the rod that allows for smooth retrieval. The braking system is
magnetic, and which helps with the freedom of adjusting the brakes to get a
perfect cast for their rod and line. Next to the brakes, is the drag which can
be set for up to 12 pounds which works best for larger fish. Overall, we love
this product because it functions flawlessly and with a perfect balance.
Shimano 200IHG Curado RH is a lightweight and a high-performance model.
Pros
High-quality components
Fast and easy retrieval abilities
Assured durability
Great line capacity
Cons
Daiwa company is one which is inspired by innovation, challenge, and originality. All
its reels are manufactured per these values. The Coastal TWS is, therefore, no
different. Being a new release that was highly anticipated, this model matches
up to your expectations. What Daiwa had in mind when crafting the Coastal TW
T-Wing was a model that will allow for distance casting with ease which is
evident as it features eight corrosion resistant ball bearings that are sealed
for use in saltwater. The reel includes gearing of 7.3:1 and offers a quick
retrieve. We are impressed by the drag system incorporated in this product that
offers up to 15.4 pounds of power. Most components in this make are made of
aircraft grade aluminum, which means maximum strength and durability. This make
offers more line capacity than the Daiwa reels that came before, and the T-Wing
system featured is for reducing line friction. For those hoping to catch big
saltwater fish, this reel would be a huge asset thanks to its excellent
retrieval speed, and unique casting technology.
Pros
Smooth casting
Great retrieval speed
Magnetic controls that make it easy to use the reel
Cons
Additional line capacity could improve its efficiency
May need to be lubricated before it's used
Here is another mighty brand- Abu Garcia. The company is widely known for its high quality and long-lasting
fishing rods. They also have a few combo packs that offer a lot of facilities. This
Abu Garcia Saltwater baitcaster has many things it can offer fishers like you.
The most impressive fact is that it comes with six different packages for
different styles and retrieves. Abu Garcia Ambassadeur SX Baitcast Fishing Reel
is really made for angling in saltwater as it comes with a multi-disk drag
system which allows one to perform a smooth and accurate cast. As it is with
affordable reels, graphite was the main material of choice when designing this
product. However, the ball bearings are of stainless steel, and they are three
of them plus an additional roller that facilitates smooth retrieve. Once you
hold it in your hands, you'll feel it's lightweight which makes it suitable for
use beyond entry-level reel and easy to control. With a compact bent handle and
a synchronized level wind system that improves overall line lay and castability
this model gives anglers a solid casting reel.
Pros
Extremely lightweight
Corrosion resistant ball bearings
Tested durability and strength
Multi-disk dragging
Unique design and building method
Cons
Its lightweight may also limit one from catching extra big fish
Lew's is not a famous company. It's true they do have a following, but they have not yet
matched the popularity of other top-notch brands. However, this is unfortunate
because Lew's makes some very lovely reels. Carbon fiber is not an easy material
to lay hands on. It's light, durable and very long lasting which is no wonder
it was chosen for this lightweight reel. Just weighing 5½ ounces, it may seem
as if you are carrying a toy, but that is far from the truth. This product is
durable and tough and can handle heavy weight fish. Its drag system uses four
different carbon fiber discs, which helps keep the pressure to 20 pounds. And
with a gearing of 7.5: 1, the retrieve ratio is almost unmatchable. As it
features a dual handle, you get more traction and control. The braking system
is both magnetic and centrifugal, which gives you more freedom of adjustment.
Pros
Lightweight
Extra versatile
Strong and durable
Excellent line capacity
Cons
Due to the small size, it can be difficult to control
KastKing is a well-known sporting goods company that many fishers love due to their
commitment to making high-quality products at a reasonable price. Among their
many reels, the Spartacus Plus is one that's popular because of its power and
efficiency in casting. It comes with both the centrifugal and magnetic braking
system and a gear ratio of 6.3 to 1. The reel has 11 ball bearings sealed and
corrosion resistant making it perfect for saltwater fishing. The product also
features a carbon fiber drag system that supports 17.5 pounds of power and
includes immediate stop anti-reverse.
Pros
Extremely lightweight
Easy to adjust brake and drag systems
Cons
May need to be lubricated before use
Factors to Consider When Shopping for the Best Saltwater Baitcasting Reels
Since reels make up the mechanical parts of the rods, it's important that they're efficient
otherwise your fishing trip will be fruitless. Here are some things you should
consider before purchasing any particular reel.
1. Type of materials
The best material for saltwater baitcasting reels is high-grade aluminum. There are also
other types made of graphite. But the only problem with them is that the
material is not that strong neither can it provide as much raw power. If you
want to stay with your reel for many years, only pay attention to those that
the manufacturer uses aluminum.
2. Gear ratio
This is the speed of the reel. Baitcaster reels have their gear ratio between 5.4:1 up to
7.1:1. That simply shows the number of turns the spool makes for each rotation
of the handle. If for instance, you have one with a designation of 7:1:1, it
means it performs 7.1 revolutions with one turn of the handle. Of course, the higher
the ratio, the more the turns.
3. The kind of braking systems
Brakes play a vital role in the operation of bait cast reels. They help either to slow down
to make the spool rotate faster. If they didn't have the braking system, the
backlash (mess a fisher is left with that occurs when the spool keeps revolving
after the lure has stopped moving forward) would frequently be happening during
normal operation. Brakes are there to minimize the amount of backlash that
occurs on the reel's spool.
Brakes are of two types:
Which have two to six pins included that allows a fisher to activate and deactivate the
brakes.
As the name suggests, they use a set of magnets that react with non-magnetic metals
incorporated in the spool. Moving of the magnets towards the spool activates
the brakes while driving them further away from the spool allows it to move
smoothly. Although braking systems are crucial to baitcaster reels, what's more important is, for
the angler to learn to properly thumb the spool as it will help in controlling
the spool speed.
4. Handle size
Baitcasters come in different handle sizes some longer than others. Knowing what you are
going to use the reels for will help you choose the correct handle size. Of
course, bigger and longer handles generate more torque, hence facilitating
targeting, but, they can't be controlled by just anyone.
5. Size of the spool and strength
A larger spool is needed so that heavy lines can be comfortably accommodated. Also, in
saltwater situations, it is best that you have a reel that's durable and
strong. Why? Fishing for the large saltwater species means you'll lift a fish
directly out of the water using your reel and line. Therefore, if you have one
that can't handle the weight, it'll make your fishing efforts fruitless.
Conclusion
Even though it's not easy to baitcast, that additional effort makes the catches much more
rewarding. And with a quality rod on your hands, fishing will become much
easier and fun with time. The above mentioned are the best saltwater
baitcasting reels in the market today.