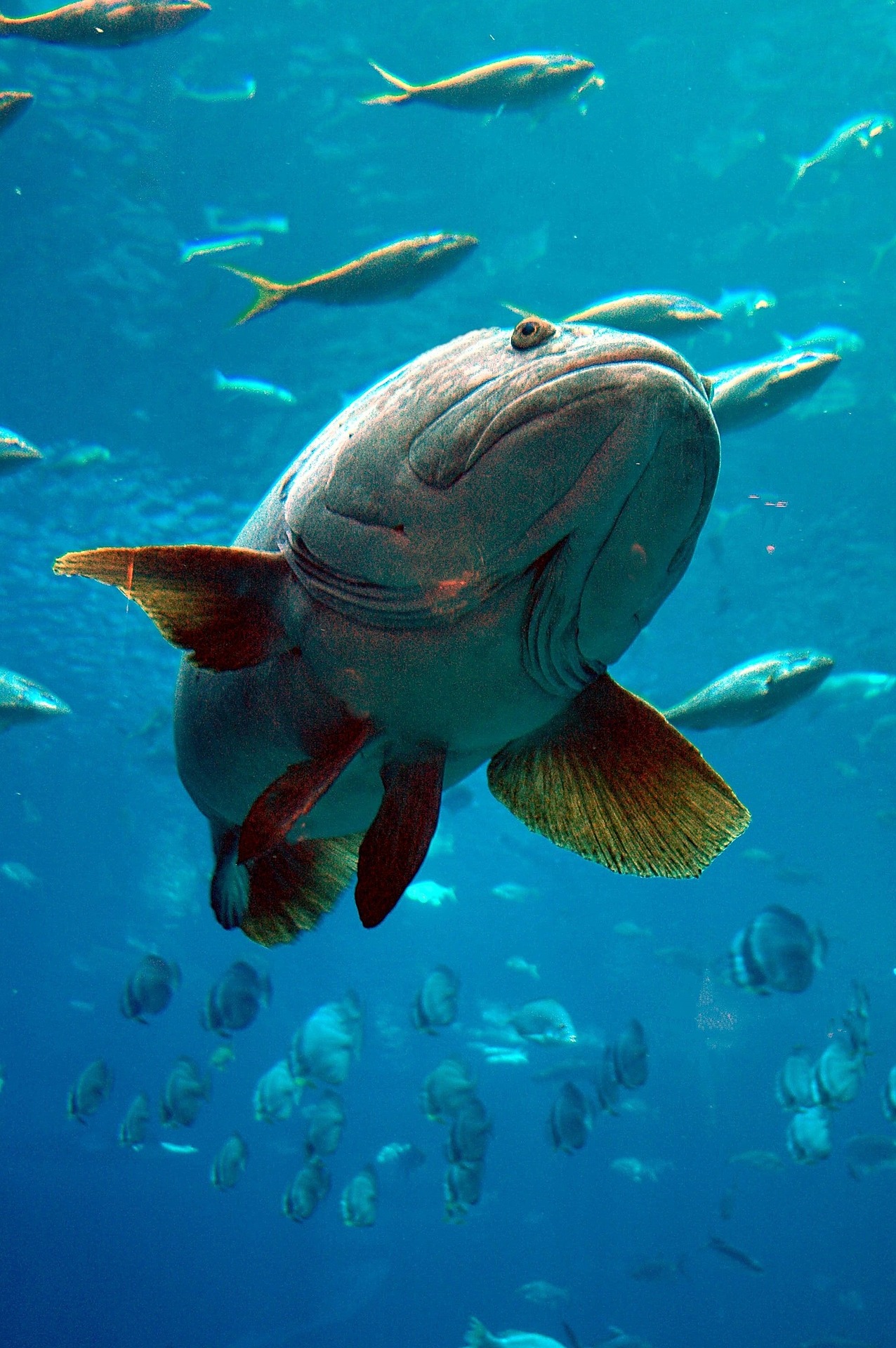 Are You a Grouper Groupie?
Today's diets are fraught with mega-quantities of salt refined sugar, processed flour, and artificial additives. None of which are conducive to your continued health and well-being. In fact, they do just the opposite. They are now considered the leading cause of obesity in America, and it is suspected by many health professionals to be the root cause of the pandemic rise in Type II Diabetes. Ironmen drop the crap and go with real food. https://www.youtube.com/watch?v=FUC7lioxTus
With all the health risks associated with America's food supply, is there nothing we can eat, which is delicious and healthy at the same time? Well, there is the sea mother to all life on Earth provides us with one of the perfect sources of protein and nourishment. The Grouper, a fish many shun in favor of the Salmon and the Tuna. However, this fish has the health-giving qualities you've been looking for in your life and your family's as well. That is what we will be talking about today.
The Grouper, when cooked, looks a lot like Salmon, just not as orange.
Grouper is not even on the list of 10 most sought-after fish.  We have another fish ranked as the number one fish, but grouper is definitely one of the best out there in, our opionion. You are flying on the radar, and you can get a fish that hasn't been discovered. Nevertheless, many people are not only cooking delicious meals with the grouper, but they even go out and catch them for their table as well. https://www.youtube.com/watch?v=NfIL0AGjh00
You, of course, do not have to do this. Any Asian market or large market chain is stocking the fish as it is considered a delicacy in the Asian community. https://www.youtube.com/watch?v=h-8m7qViXOQ
Groupers come in all sizes. The writer was diving off Florida and met one that could have swallowed him whole in one gulp and not noticed. Fish of this magnitude often provide months of eating for the lucky fisherman that bags one, if you think this is an exaggeration take a look at this video. http://www.dailymail.co.uk/news/article-2730499/Fisherman-left-shocked-giant-grouper-fish-eats-shark-just-caught-WHOLE.html
You, on the other hand, will have to do with one of the smaller varieties. https://www.bing.com/images/search?q=species%20of%20groupers&qs=n&form=QBIR&sp=-1&pq=species%20of%20groupers&sc=0-0&sk=&cvid=348F8BECA62F48D4BD4163E14F23DCD3
Nutrition Facts
Grouper – Blackened
Servings: 1.0
Calories 238
Sodium 107 mg
Total Fat 3 g
Potassium 450 mg
Saturated 1 g
Total Carbs 2 g
Protein 50 g
Cholesterol 95 mg
Vitamin A 7%
Calcium 4%
Iron 13%
*Percent Daily Values are based on a 2000-calorie diet.
Generic Red Grouper Broiled
Serving Size of 4 oz.
Calories 110
Sodium 65 mg
Total Fat 2 g
Saturated 1 g
Total Carbs 2 g
Protein 23 g
Cholesterol 55 mg
*Percent Daily Values are based on a 2000-calorie diet.
Grouper cooked with dry heat i.e. Grill
Serving Size 4 oz.
Calories 133
Sodium 60 mg
Total Fat 2 g
Saturated 1 g
Protein 28.1 g
Cholesterol 53 mg
Calcium 23.7
Potassium 536 mg
*Percent Daily Values are based on a 2000-calorie diet.
Grouper Raw
Serving Size 4 oz
Calories 104
Sodium 60 mg
Total Fat 1.2 g
Saturated .3 g
Total Carbs 2 g
Protein 21.9 g
Cholesterol 42 mg
Calcium 30.5
Potassium 545.8 mg
*Percent Daily Values are based on a 2000-calorie diet.
How do you prepare Grouper to make it into a nutritious and tasty meal to get your family to get off the processed food carousel?
You need to stop eating processed food, but it is not an easy habit to break. That why you need to use flavor to offset the http://www.foodnetwork.com/recipes/food-network-kitchen/spicy-cajun-seafood-stew-recipe-2058864
The people over at Food Network do Grouper right. The above recipe is a take on the Cajun Seafood Stew. IT is a nutritious medley of shrimp, grouper, and andouille sausage. Trinity of Green Pepper, Onions, and Celery provide the extra spice along with the addition of Lea & Perrins Worcestershire Sauce and Louisiana Hot Sauce.
When you look at the following recipe, you see the third leg of the trinity missing, and they add only a tsp of Cajun Spice. Moreover, there is not enough Cayenne pepper to speak of. So, you can bring it up to passable Cajun flavor by adding the above ingredients and then follow their recipe at. http://www.foodnetwork.com/recipes/food-network-kitchen/spicy-cajun-seafood-stew-recipe-2058864
If you love the exotic add Grouper to your favorite Curry
England has adopted Curry to the point that it can almost be considered the national dish. If you add Grouper to the mix, you now have a taste treat that just might make it a meal that is not only nutritious but also weans your family away from processed fast food forever.
This is a good way to highlight grouper in your home. The dish has many ingredients, but the recipe is simple to follow. "All Recipes" is credited with the dish and all you need change is to add the grouper to the recipe. Though, the writer would add an extra tsp of ground Cayenne Pepper as well. http://allrecipes.com/recipe/213238/indian-fish-curry/
Final Thoughts
Grouper is not as widely consumed as the other big 10 in fish. But, once you try it, you will turn up your nose at the others. Today, You've learned also about the grouper as it has on the average of about 23 grams of protein per serving and it has both potassium, which you need and a low sodium rating that you want.
This makes it the perfect defense against High Blood pressure as well as an excellent way to kick a fast-food craving as it can replace the garbage ingredients with spice and herbs as we have shown with the Fish Curry and the Cajun Fish Stew.
Grouper is healthy reasonably priced it is a hedge against obesity and Type II Diabetes. It is packed with protein, and Grouper fillets are firm and delightful to the palette. So, when you want to try something different and healthy to boot. Try a dish made from Grouper, the "Other White Fish."