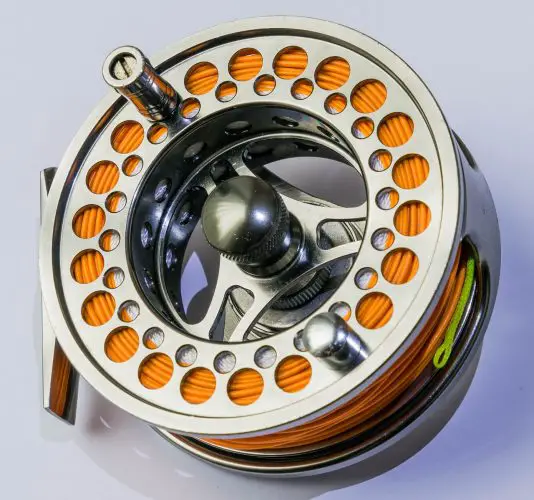 Deciding what the best snapper reel to use can be quite
challenging because there are so many snapper reels in the market each claiming
to be the best. Making the decision which snapper reel will best serve you can
be both a confusing task and time-consuming. However, you do not have to worry
about that anymore as we are going to review four snapper reels which will
offer you with exceptional performance. To make this decision, we have factored
in your experience as well as the budget.
Best Snapper Reels
Features
•    A Superline spool that needs no backing. Furthermore, it features line capacity rings that are
marked 1/3, 2/3 as well as full capacity plus is braid ready.
•    A high-range and durable snapper real, which is perfect for use when you are out attempting to
conquer the big saltwater game fish.
•    HT-100 carbon fiber drag system which offers you with a robust drag while still not
compromising the much-needed smoothness.
•    A side plate, full metal body, a rotor as well as a heavy-duty aluminum bail wire which
ensures you are provided with remarkable durability, leading to an extended
service.
•    Fluid cranking that has immediate anti-reverse bearing plus five sealed stainless-steel ball bearings.
Advantages
•    This snapper reel offers you with remarkable value considering its price and its exceptional
functionality and practicality.
•    This reel features excellent gearing which enables you to do a fast retrieval,
subsequently increasing your chances of catching fish. Additionally, you can
cast farther, and the feel is much smoother.
•    The construction quality of this snapper reel is outstanding as it integrates only heavy-duty
components. It will last longer thanks to its durable design.
•    Adjusting it is straightforward plus its drag is smooth so it can handle a significant amount
of line subsequently allowing you to cast at much longer distances in
comparison to other fishing reels.
•    It can catch large fish.
•    Thanks to the super line spool, the backing is not essential, and this consequently makes
your fishing experience much more relaxed.
•    It is useful and practical to use across all the different types of fish.
•    Assembling this saltwater fishing reel is simple as well as disassembling it thereby making you
have an easier time.
Disadvantages
•    It is not waterproof making it less ideal for surf fishing and getting soaked with
saltwater eventually caused this fishing reel to get damaged.
•    The gear housing of this fishing reel contains too much thick and blue grease that subsequently
makes it feel stiff making you feel some resistance while using it.
Consequently, this affects your effectiveness at successfully catching fish.
Features
•    A unique side plate oil port which is intended to ensure extended maintenance perfect both
for experts and amateurs alike. The aim of this is to maximize the performance
and reel life of your bait cast.
•    It features four advanced and powerful washers which offer this low-profile fishing reel with enough
power of 18 LB carbon fiber drag. This power is enough to handle any big fish
that you intend to catch.
•    Robust double wind shafts as well as backlash which are useful since they eliminate magnetic
dial-in settings within 0 to 10.
•    A low-profile design caster that has gear ratios of 7.1:1 which are designed specifically for
you if you are a versatile angler. Additionally, this baitcasting fishing reel
has a gear ratio that is perfect for quicker fishing tactics as well as quickly
getting fish out of cover.
•    The gears integrated into this baitcasting fishing reel are climate-resistant Japanese
Hami cut 3604 brass gears, industrial durable-strength, and are of good quality
consequently making this the perfect bait caster fishing reel.
•    Shielded stainless steel bearings which add to a prolonged life from both salt and fresh
water, as well as oil wear particles. Likewise, the bearings are in proper
positions allowing for free and smooth pull meant for the low-profile bait cast
reel.
•    This fishing reel in its design features a fast oil injection port that is simple to remove and
screw back for amateur and professional anglers.
Advantages
•    Thanks to the oil bearings being shielded by oil, this fishing reel lasts for an extended
duration regardless if the water is salty or fresh.
•    Reinforced gears that are waterproof, silent, dependable, and sturdy. Therefore, you never have
to worry about it getting damaged while out fishing as it is very reliable and
robust.
•    It offers you with tremendous value because it performs very well and is available at an
affordable price.
•    This fishing reel offers you the confidence to go fishing for bigger fish without having to worry
that its strength, stability, and performance will not be a match for the fish.
•     Having a quick oil injection port in its design is excellent as it makes things much easier
for both professional and amateur anglers, thereby allowing them to put more
focus on fishing.
Disadvantages
•    Some customers have had problems with the bearings getting damaged a few months after buying,
which has caused the reel to not perform well after.
Features
•    This baitcasting reel features a versatile 6.3:1 gear ratio which proves to be an exceptional
tool.
•    Micro-cast dual magnetic and centrifugal brakes. Additionally, it features a carbon fiber drag
which is tournament ready with a trophy fish stopping power of 17.5 lbs.
•    It incorporates corrosion resistant parts which can either be used on saltwater or freshwater
and still deliver you plenty of fishing hours while maintain performance.
•    A 11 + 1 stainless steel ball bearings, durable brass gears, an instant anti-reverse as
well as a CNC aluminum spool that provides you with an excellent baitcasting
reel to suit your needs.
•     Integrated into this baitcasting fishing reel are new and dynamic features which will ensure
that improve the overall ease of fishing, ideal for amateurs and professionals.
•    Provides a combination of power and smoothness unlike any of its competitors while still
being affordable.
Advantages
•    An excellent entry-level price making it ideal either for the novice or professional angler
while still offering remarkable performance; it offers you incredible value for
money. Therefore, it is no surprise it is one of the best snapper reels in the
market.
•    The quality of material used in its manufacture is durable and long-lasting; which is why this
equipment will serve you for a long time before you will need to find a
replacement.
•    Having the centrifugal and magnetic brake system makes your fishing experience much easier
since it considerably reduces the number of times which you catch bird nests.
Also, this improves your fishing experience as you get to spend more time on
actual fishing.
•    Casting and retrieving this fishing reel is exceptionally smooth as it can catch fish of
substantial weight, and the drag provides you with further assistance.
•    The setting up process of this reel out of its box is pretty straightforward. Furthermore, the
brake system is easy to set up to cast giving you more time to concentrate on
fishing and not setting up the equipment.
•    Its size, as well as gear ratio, are perfect making this fishing reel ideal for you regardless of
whether you are an expert or an amateur. Additionally, it is lightweight hence
making it easy to use.
Disadvantages
•    Some fishermen thought setting up the brake sequence was very confusing because it does not
follow the conventional methods adopted in other fishing reels.
Features
•    Seven bearing brake system which consists of stainless-steel ball bearings that are corrosion
resistant, which allows use in fresh or saltwater.
•    A sealed brake system which offers it with an adequate amount of power needed while fishing
while still ensuring the whole process is smooth.
•    It has a graphite body as well as rotor that consequently makes this fishing reel lightweight.
Despite being lightweight, it is sturdy therefore can resist easy breakage
making it the perfect fishing reel, especially if you are still a beginner.
•    A braid ready spool which enables you to hold the braid to spool directly.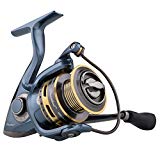 Advantages
•    This fishing reel offers you with tremendous value for money as it delivers exceptional
performance while still being cheaper in comparison to its competitors, thereby
making it a shrewd investment.
•    It is one of the best snapper reels thanks to its superb ten bearing system which subsequently
makes operating it very smooth and this ultimately improves your overall
fishing effectiveness.
•    The handle of this fishing reel has rubber handles which thus enable you always to have a
comfortable grip which is essential, and this helps you even fish for prolonged
durations and still not make your hands feel uncomfortable.
•    It is lightweight, and this fishing reel makes it comfortable to handle, and this eventually
enhances your fishing performance as you can easily maneuver it even when
catching weighty fish.
•    Not only does this fishing reel have outstanding performance, but it also looks and feels
great.
Disadvantages
•    An issue some have had is retrieving with this fishing reel is quite challenging even after
lubricating the gears as well as ball bearings with this making it not smooth
to operate.
Conclusion
Having taken you through the best snapper reels in the market, we now believe you are better placed to decide which of these items
will best suit your needs.