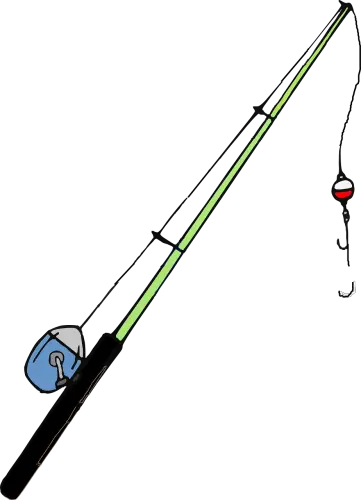 One of the most common types of activity among anglers is snapper
fishing. It can be quite rewarding and that's why you should be armed with a
gear that best fits the occasion. Most importantly, you should have the best
functional rod. So, not sure which rods to pick for snapper fishing? Here is a
review of some of the best rods that you can pick for this activity and some
guidelines on what to look for in a rod and how to optimally use one.
Best Snapper Rods
If are a snapper fishing enthusiast, then this should be your best choice. It
comes in different models ranging from the 4'6″ to the lengthy 8 feet
ones. The most versatile model is 6'6″. The product is a 2-piece rod made
up of graphite blank that is durable and highly sensitive and will detect the
slightest touch on the line in real-time. The graphite makes it lightweight
ensuring that you can hold the rod for a long day of fishing without getting
tired. It has 7 guides where their inserts are made up of aluminum oxide.
The reel seats are composed of standard pipes with stainless steel hoods. Also,
the keeper is made up of the same stainless stool hood. For the handles, the
cork grips are used. They are tough yet smooth and offer a lightweight grip.
The cork grip ensures that you can work with the rod for long periods of time.
It also increases the sensitivity of the rod. It has a fore grip of 2″ long
while that of the rear is 6.25″. Moreover, the lightweight design is
useful during fishing because it will assist you to keep up with the fast-moving
fish. The overall weight is 3.6 ounces. It can accommodate between 2- and
6-pounds lines as well as those that are 1/32-3/8 oz. The aluminum oxide inserts
are corrosion resistant and will allow your line to flow freely. You can
experiment with the salmon and steelhead due to its effective rod action.
Furthermore, with the above qualities, it offers great value for your money.
Key Features
•    Aluminum oxide inserts for free movement of the line
•    Graphite composite blanks that are highly sensitive
•    Thru-blank handle design
•    Aluminum oxide guide inserts
•    Cork grips in both the from and rear parts
•    The reel seats are hooded with stainless steel
Pros
•    It is highly sensitive thanks to the premium graphite
•    It is very light making it the best rod for catching fast-moving fish and fishing while standing
•    It has a very comfortable cork handle
Con
•    Feels weak while handling
One of the best rods used in fishing snapper is the Ugly Stik Elite. This
design is an upgraded version and has proven to be among the best available
ultra-light spinning rods. The Ugly Stik Company increased 35 per cent of
graphite in designing of the Elite series. This means that the current design
is much lighter and has better sensitivity than the previous original versions.
Sensitivity is also enhanced using tip technology. Moreover, the enhanced
sensitivity does not compromise the strength of the fish rod. To make the
product even lighter and reduce line wear, the Ugly Tuff leaders designed the
product without inserts. On the butt side, the Ugly Tuff Elite series has a
lightweight and durable EVA foam grips. The product has a perfectly rounded
reel nest that gives an easy handling time making it more comfortable. The
improved guides coupled with good quality cork handles, makes the rod have a
perfect balance. You can easily use it for long hours even while sitting and
still get the best performance. It is one of the best snapper fishing rods on
the market especially due to its low range of prices and a wide variety of rod
configuration choices. You may choose one two or even the four-piece rods
available with different weights and lengths. Anglers also range from
ultralight to heavy or long to short with different weights and lengths. To
ensure that it is long lasting and resistant to rust, the product utilizes
stainless steel guides that can also accommodate different variants of fishing
lines.
Key features
•    Uses clear tip technology for increased sensitivity
•    Superb value for the money
•    Has Ugly Tuff line guides made of stainless steel to increase durability and make it carrion resistant
•    Lightweight with 35 per cent more graphite than the previous variants.
•    Has an appealing cosmetic design for a modern look
•    Next generation best snapper fishing rod and reel.
Pros
•    It is highly sensitive utilizing the
tip technology
•    Perfectly balanced
•    Quite affordable compared to other variants
•    Maintains the reputation of previous Ugly Stik versions
•    It is a modem performance rod
Cons
•    Some people prefer the Cork Grips that are found in previous versions rather than the EVA foam found on this rod
•    It is not very flexible
The rod comes in a variety of designs, all showing a reliable construction from
the Shakespeare fishing company that is famously known for their unique and
innovative designs since the 20th century. The most striking feature of this snapper
fishing rod is the signature clear tip. It is a feature that is highly
sensitive and ensures that you feel any slight touch by a game and at the same
time it is strong enough to handle a heavy catch. The length of the rod is
between 4-foot-6 and 7-foot-6. The shortest is the 2-piece rods. The 7-foot
ultralight rod is ideal for even the amateurs and they can use it to make a
great casting distance and achieve accuracy. The rod is designed using durable
graphite composite with 6 guides and inserts including the tip that are made of
stainless steel. Most anglers prefer the rod because it doesn't spook the
fishes with its dark grey and matte finish. The rod is ideal for lighter lines
measuring 2 to 6 pounds and lures that weigh 1/32 to 1/4 oz. It is well
balanced, light and comfortable thanks to the exposed reel seats with cushioned
hoods and the cork handle. The cork handle also increases the sensitivity of
the rod. Pairing this rod with a reel will give you unstoppable spinning rod
and reel combo.
Key Features
•    Graphite composite 
•    Cork handles that increase sensitivity and grip
•    Reel seat cushioned with hoods
•    6 stainless steel guides together with their starters.
Pros
•    It has a stunning design and appearance
•    Offers a comfortable grip
•    The rod is highly sensitive
•    Reliable construction just like the previous versions
Cons
•    There are complains of poor packaging and lack of some parts.
If you are a snapper fishing enthusiast, then this one should be on the top
list of your best snapper fishing rods. They come in different lengths ranging
from a 4-foot-6 to 7 feet and powers an ultralight to medium. The product
features a lightweight IM7 micro polish graphite blanks that are highly
sensitive. All the combos are two pieces and are available in either the medium
power 6.6 "that is moderately fast in action or the medium heavy 7"
that is a quite fast action. The most versatile model is the 5-foot model which
is a 2 –piece and can support lines that are between 2 and 6 pounds and lures
that weigh between 1/16 and 1/4 ounces. This product weighs about 3 ounces. The
product is equipped with stainless guides that have O-ring inserts perfect for
the braided lines. For the reel seats, quality nylon is used to ensure that it
keeps its firm and in place during a long day of hard fighting fish. The
Calamus Ultra-light is made up of four Cadet casting combos that you can easily
assemble them to two pieces making them ideal for travelling with. The
6.6″ and 7″ are perfect for the snapper techniques such as spinner
baits, jerk baits, jigs, crankbaits and many others. With a 7-magnet braking
system and a high-quality casting reel, you can now cast without worrying about
the backlashes or even overruns. The product has 6 guides that are made up of
premium V-mark titanium. They enhance the rod's sensitivity further. Additionally,
the Calamus ultralight has a 2-piece SKSS reel seat that comes together with
split-handle that is made up of premium EVA making the sensitivity quite
remarkable. The rods are quite cheap compared to its quality features they
offer. It doesn't matter whether you are right or left handed because it has
both hands retrieve and, you don't have to use a rod that doesn't fit your
fishing needs.
Key Features
•    Made of solid carbon fiber that maximizes strength and maintains sensitivity
•    Lightweight with an overall tremendous strength
•    Corrosion resistant. Guides made up of premium V-mark titanium
•     Reel seat with a Soft Touch finish 
•     EVA split grips that improve comfortability 
Pros
•    Affordable with high-quality features compared to other snapper fishing rods
•    Corrosion and rust resistant
•    Lightweight and very strong
•    Easy to store and travel with because it can be disassembled to two pieces
•    Has an EVA split grips and perfectly spaced guides to increase grip and maximize casting respectively
Cons
•    They need extra greasing after buying from the manufacturer
What to Look for in a Great Snapper Rod
Any professional will advise you that the best way to go about fishing is
finding the right fishing equipment. If you get the right fishing rod, you have
the chance of catching some game. You will even have the chance to hook a snapper,
a true test of professional angler. There are a few factors that influence the
way a rod will perform especially when you must face a hard-fighting snapper. To
ensure that you don't get subdued here is a breakdown of what you have to look
for in a great snapper fishing rod.
The composition of the Rod
The composition of the rod will determine the type of rod that you will choose.
A graphite one is light enough and the most sensitive, but not that durable.
The fiberglass rod is more durable but less sensitive. So, the best pick would
be to go for a composite one, that is, a rod that combines both the fiberglass
and graphite materials.
Rod Length
When considering the length, you should be thinking of the place where you are
going to look for a game. Nonetheless, the 6 to 8 feet long rod is your best
bet to use in any fishing activity. If you are going fishing in an area such as
an open alpine stream, the 8-foot long rod will increase the casting distance
and improve your accuracy. However, if you are going fishing in a lower stream
that contains a lot of overgrowths, then a shorter length would be ideal.
Line Guides
A high-quality line is smooth and will transit vibrations effectively making it
easy to detect a fish bite. For the line guides, go for the ceramic ones. The
brand of the line guides is also important, and you may go for a reputable one.
The optimal way to use a snapper fishing rod
Snapper fishing is quite a challenge because they put a fight. It isn't a
surprise getting yourself subdued by the fish and it may even snatch the
spinning rod out of your hands. So, when you are angling with your spinning
tackle, ensure that you find a lightweight and strong one.
These spinning rods have an open-faced reel and while releasing the fish line
you only need to use your index finger. As a right-handed person, you should
hold and cast using your dominant hand while you reel with your left hand. The
reels should always be below the pole when you are holding a spinning rod. Here
are other steps that you should complete:
•    Locate the fishing reel and open the wire bail. It will be used to wrap the line around a spool
•    Once it is open, hold the line in place using the index finger
•    Lastly, prepare to cast by releasing the line and moving the rod forward.