Whether you are a beginner or an experienced angler, looking for a good fishing rod can be an exciting prospect. The sheer number of available options in the market today can be confusing, but you won't go wrong with the KastKing fishing rods. They offer a good value for your money, especially if you want rods that can both spin and cast under different conditions, but what components does KastKing use to produce rods that have a great fishing experience?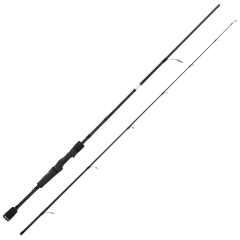 Premium Graphite Blanks
To achieve the best results, KastKing utilizes high quality materials during manufacturing. The use of light, tough graphite blanks, made from IM6 Hercules Fibers, ensures the rods are attractive and offer the best service. In addition to being powerful, the KastKing KastFlex IM6 graphite fishing rods come in different power ratings and weight. They are also available in varying dimensions, ranging between five and seven inches. At a budget-friendly price, these incredible all-around rods perform exemplary well in both saltwater and freshwater.
Stainless-Steel Guides and Zirconium Oxide Rings
The components used during manufacturing greatly affect the quality of fishing rods. And KastKing is renowned for using the stainless-steel guide frames. The rings are made of Zirconium Oxide, which ensures that the casts are long and smooth. The use of monofilament, fluorocarbon or braided fishing lines also produce Crixus fishing rods that are highly durable.
Gold Style SuperPolymer Handle
Apart from being slip resistant, SuperPolymer handles are durable and comfortable. These characteristics ensure that any angler has total control of their fishing rod under any condition. The SuperPolymer handles are only found in expensive rods. However, all the KastKing Crixus fishing rods come with these high performance-split rear designed handles, with EVA (Ethylene-Vinyl Acetate) fighting butts. The butts prevent the handle from breaking due scraping and wearing (abrasion).
Available in Different Models
The U.S.-based company produces rods that are suitable for anglers from all walks of life. With 20 different models, which vary in action, length and power, there is a perfect rod for everyone. For instance, the company makes a specific Crixus fishing rod for trout fishing, bass fishing, and catfish among many more. You can also get a rod customized for inshore fishing in saltwater. For easy use, ship, and storage, KastKing utilizes the PTS technology to manufacture two-piece Crixus fishing rods. As a result, your rod will feel light, just like a one-piece gear.
Unbeatable Performance
Although the KastKing Crixus fishing rods are light in weight, they are made with performance in mind. Use of high-quality components, which are commonly found in costly rods, produces rods that are durable, comfortable, easy to use and powerful. KastKing Crixus rods will give you a memorable fishing experience when used correctly.
Easy Maintenance
Since the Crixus fishing rods are made in a simple, unique design and with the best materials, it is easy to maintain them. Although they are as tough as nails, use and organize the fishing rods appropriately. As the old saying by Benjamin Franklin goes, " A place for everything and everything in its place," so store the gear safely after use, away from places people might step on them or get destroyed by other objects. When rods are bruised continuously, they eventually break.
Which Fishing Rod Is Right for You?
The KastKing Crixus fishing rod can't handle everything, and anyone telling you otherwise is lying. No rod can do every task. So, pick your first or your next carefully. After all, different types of rods have varying jobs, and picking the wrong one would be costly.
Final Thoughts
Crixus isn't your everyday fishing rod. It offers so much at an affordable price. So, whether it is your first or your next, a KastKing rod is everything you need.