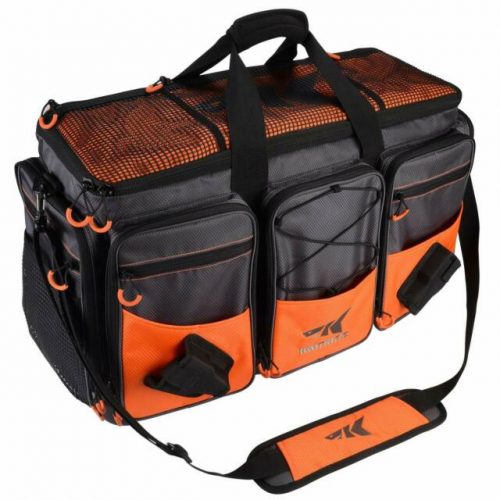 Fishing rods are the main equipment that comes to mind when
you think about going on a fishing expedition. But, once you are done fishing,
how will you carry the fish and other fishing equipment back home? Getting your
fishing equipment from one place to another can be a challenging task,
especially if you do not have the ideal tackle bag. Fishing tackle bags give
you the freedom to carry anything that you can ever need going to the water.
You can carry an extra reel, lure boxes, fishing line, and even snacks to feed
on when you get hungry.
The above are just some of the benefits of owning a fishing
tackle bag. Are you interested in buying one? First, you should know that you
have a thousand options when it comes to tackle fishing bags. However, not all
these bags are suitable for you. You need to find one that is organized,
durable, spacious, and most importantly, worth your money. Here is an in-depth
review of all you need to know about the KastKing Fishing Tackle Bag.
Before making any purchase, it is always best to consider
the features of a product as well as its pros and cons. The KastKing Fishing
Tackle Bag is one of the most popular tackle bags among anglers. It has the
capability of storing up to seven 3600 size lure boxes. The bag is made up of
nylon, which is not only water resistant, but it is also slip resistant. The
reason why anglers love the KastKing Fishing Tackle Bag is because it features
a PVC layer on the inside which provides the ultimate protection for all things
inside your bag. It is practically a must-have equipment for all anglers.
Features
It boasts of an anti-slip shoulder strap. That is, the bag
will always lay firmly on your side. It isn't the kind of bag that will drag
you down when on a fishing expedition. Also, the bottom section of the bag is
slip resistant. Whether you place it on a boat or onshore, the bag will slide
less easily. Other than being waterproof, it is also ideal for fresh water.
There are several storage pockets on the inside and outside
sections of the bag, which include zip, slip and mesh pockets on the outside.
The latter usually comes in quite handy when you are carrying a water bottle or
soft drinks. These outside pockets are mostly meant for holding equipment that
you might need to grab quickly.
Opening and closing the KastKing Fishing Tackle Bag is
relatively easy thanks to the double looped zippers which allow you to open
them by only using one finger. Secondly, the zipper also features self-healing
properties. In case it splits, all you must do is pull the zipper faster to fix
it. The KastKing Fishing Tackle Bag is a quality bag that will serve you for an
extended period. Despite being a bit costly compared to other bags, it is worth
every penny.
Pros of KastKing Fishing Tackle Bag
The tackle bag isn't a bag like any other. For the period
that you will be using it, it will offer you plenty of benefits.
• It can hold seven 3600 lure boxes and other equipment. Its
massive size makes it ideal for holding up to seven 3600 lure boxes as well as
other equipment. This is the number one go-to tackle bag if you are the kind of
angler who brings along lots of gear when going fishing.
• The water-resistant 420D nylon fabric will keep all
accessories inside the bag free from water. This is irrespective of how
frequent your bag gets into direct contact with water.
• There are several internal and exterior pockets which
allow you to carry fishing equipment and other personal accessories such as
permits with ease.
• The anti-slip shoulder bag strap will make carrying it
relatively easy and convenient.
• The layer at the bottom of the bag is also made from
water-resistant material. You can thus carry your bag to the shore and not
worry about soaking it.
• Zippers feature a self-healing property and are double
looped. It's a guarantee that they won't cause any inconveniences.
• Features a hydrophobic coating which helps avoid moisture
build up.
• It allows you to be fully organized. This is the ideal bag
for transporting fishing gear. As mentioned earlier, you can easily hold your
fishing equipment and belongings in the bag.
• Finally, the barge is relatively large and can accommodate
plenty of things.
Cons
Some anglers have complained that the tackle bag is a bit
expensive. However, when you consider the bags features and benefits, you will
realize that it is worth your money. This is a bag that features a robust
build, designed to last for years. Compared to other bags which cost less, the
tackle bag won't wear out anytime soon.
The Bottom Line
Despite the many choices' anglers have when it comes to
buying a tackle bag, the KastKing Fishing Tackle Bag remains one of the best
options. It ensures efficient organization and carriage of fishing equipment
from one place to another. The bag is big enough and can hold up to seven
3600-sized lure boxes alongside other fishing equipment. It has several
pockets, and the strap is slip resistant. All the features of it are designed
to make it superior and better than the rest to use in additional to your favorite rod and reel.