Grouper is keto-friendly. If you're on the keto diet and want to include healthy fish in your diet, grouper is a great option. Grouper is a meaty fish that can be enjoyed in many different ways and is usually very easy to cook which is low in carbohydrates, high in protein, and high in fat. This fish will give you plenty of flavor and satisfaction without putting on too much weight or feeling bloated. Thus, grouper may be the ideal option for a perfect keto diet meal plan that fits well into your busy lifestyle.
What is the Ketogenic Diet?
Ketogenic diets are low in carbohydrates and high in fat. As a result of following the keto diet, your body enters a state of ketosis. In this case, your body uses fat as its primary energy source rather than glucose. Weight loss, a decrease in inflammation, improved mental clarity, and improved overall health is all benefits of the keto diet.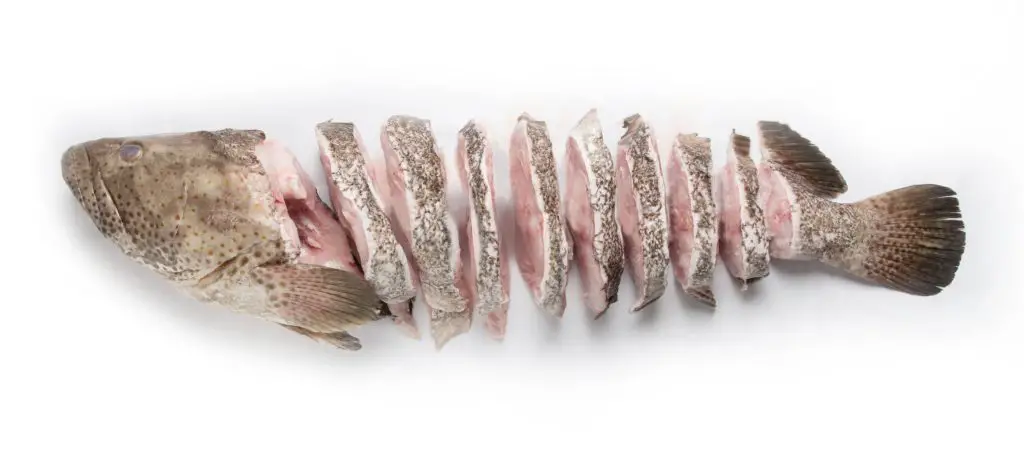 Why Grouper is Keto Friendly?
Research says grouper is high in omega-3 fatty acids and low in saturated fat, making it a healthy choice for those following a ketogenic diet. Additionally, grouper is naturally low in calories, so it will not add much extra weight to your meal plan.
Grouper is worth considering if you're looking for a fish that's easy to cook and tastes delicious. You can find grouper in your local grocery store if you want keto-friendly fish. There is no need to add seasonings to the grouper because it has a mild taste. Moreover, it has a low-calorie count and plenty of protein.
Easy keto fish recipes with Grouper
This easy grouper keto recipe starts with preparing the fish filets. You first need to season them with salt and pepper, then coat them in almond flour. This will help to keep them crispy while cooking.
Ingredients
1½ pounds grouper fillets
½ cup olive oil or melted butter
One teaspoon of garlic powder
Salt and pepper to taste
Two tablespoons of chopped fresh tarragon leaves.
Instructions:
Preheat the oven to 400 degrees F (200 degrees C). Grease a baking dish with butter or olive oil. Sprinkle garlic powder, salt, and pepper on grouper fillets. Toss in olive oil or melted butter until evenly coated—place fillets in a baking dish. Bake for 14 minutes, or until the fish flakes easily with a fork. Add chopped tarragon and serve hot!
The benefits of low-carb fish meals made with Grouper
Grouper is an easy fish to find at grocery stores. You will find several benefits of preparing healthy meals with Grouper. These are:
Grouper is affordable, making it an excellent choice for budget-minded individuals.
Grouper is high in protein, which will help keep you full throughout the day.
Grouper is low in carbs, making it a great option for those following the keto diet.
Grouper is a healthy fish option because it contains omega-3 fatty acids and vitamin D.
Grouper can be cooked in various ways, making it an excellent choice for any meal.
Can you make keto fish and chips with grouper?
You can make keto fish and chips with grouper by simply following these simple steps. First, cut the grouper into thin fillets. Second, fry the fillets in a pan with oil until they are cooked through. Third, season the fish with salt and pepper and serve with French fries or keto chips.
Keto fish batter recipe for Grouper
If you're looking for a keto fish batter recipe that's both tasty and easy to make, then you'll love this recipe from Grouper Keto. This batter is versatile enough to be used in various ways, including as a coating for fish or as a dipping sauce for vegetables. Plus, it's gluten-free, making it an ideal option for those with dietary restrictions.
Ingredients
1/2 cup almond flour
1/4 cup coconut oil
1 large egg
1 teaspoon salt
Freshly ground black pepper to taste
Grouper fillets (6-8 per person)
Instructions
Preheat the oven to 400 degrees F (200 degrees C). Grease a baking sheet.
Mix almond flour, coconut oil, eggs, salt, and pepper in a medium bowl. Mix well.
Dredge grouper fillets in the batter until coated. Place the fish on the prepared baking sheet and bake for 10-12 minutes or until the fish is cooked.
Keto fish soup recipe with Grouper
Are you looking for a keto fish soup recipe that is both hearty and delicious? Look no further than this recipe for grouper keto soup! This soup is easy to make and perfect for a cold winter night. It's packed with healthy ingredients like fish and vegetables, so you can feel good about eating it.
To make this soup, start by heating some olive oil in a large pot. Then, add the chopped onion and garlic to the pot and cook until soft. Next, add the canned tomatoes and tomato sauce to the pot. Once those are cooked down, add the bouillon cubes and Worcestershire sauce to the soup and stir everything together. Finally, add the fish fillets and water to the pot and bring everything to a boil.
Once boiling, reduce heat to low and simmer for 30 minutes. During that time, you can prepare your desired toppings for the soup, such as fresh parsley or crumbled cheese. Once 30 minutes have passed, carefully remove the fish fillets from the soup with a slotted spoon and serve warm! Enjoy!
Keto fish curry with Grouper
If you're looking for a keto-friendly fish dish, you'll love this keto fish curry recipe! It's made with grouper, but you could also use tilapia or salmon. Plus, it's so easy and quick to make that you can enjoy a delicious seafood meal in no time.
Ingredients
1 tablespoon olive oil
1 large onion, chopped
3 cloves of garlic, minced
1 teaspoon cumin seeds
1 teaspoon ground coriander
1 teaspoon turmeric powder
1/2 teaspoon curry powder
Kosher salt and black pepper, to taste
1 (14-ounce) can of diced tomatoes
2 tablespoons tomato paste
2 tablespoons of coconut milk
6 ounces grouper steak, cut into bite-sized pieces
Fresh cilantro leaves, green chilies, and lime wedges for serving (if desired)
Instructions
Take a deep curry pot and add oil to it. Once heated, add chopped garlic and onion; when the onion and garlic turn slightly golden, add cumin seeds, coriander seeds, turmeric powder, curry powder, and tomato paste. Once the spices are cooked, put in the coconut milk and let it simmer for 7-8 minutes. Add grouper pieces. When the curry is reduced, add in the green chilies and cilantro. Serve it hot with plain rice or roti!
Keto baked fish recipes with Grouper
This classic keto dish is easy to make and perfect for busy nights. Simply preheat your oven to 400 degrees Fahrenheit and place the grouper filet in a baking dish. Top with shredded cheese and bake for 15-20 minutes, until the fish is gently flaky, and the cheese is bubbling. Serve it hot with your favorite sides. You can make some Basil Aioli, Lemon Zest-dill sauce, and Honey Mustard Sauce to enjoy with baked grouper.
Conclusion
Yes, Grouper is keto-friendly fish. In fact, this type of fish is an excellent source of healthy omega-3 fatty acids and low in saturated fat. Plus, it's also a good source of protein and vitamin B12.
If you are looking to try the Grouper keto diet, it is essential to be aware of the foods that this diet allows and prohibits. If you are looking for a high-fat, low-carbohydrate keto diet that is friendly to Grouper, we recommend trying out our given recipes.