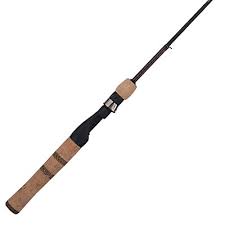 Fishing is always a fun activity but with the wrong gear, it can become a challenging one.
One of the most important pieces of equipment for fishing is the right type of
rod and since there are many available in the market, it's important to choose
the best one. The Ugly Stik Elite Spinning Rod is a top choice for those angling regardless of their level of expertise in fishing due to many reasons,
and one of which is the fact that it is a product of a reputable company. The
company has been in business for decades and has gained experience in producing
the best fishing equipment. This rod is one of the highest quality rods you can
come across.
Features
The rod has many other features that ensure it works as it should and results in the best
fishing experience for you.
There are different techniques one can use when fishing but sometimes finding a rod that
accommodates everyone's style is difficult. With this fishing rod everybody's
style is catered for making it the perfect fit for whatever type of water body
you choose or any type of fish you're targeting. It can be used in saltwater
and freshwater bodies to catch all types of fish ranging from bluefish to bass.
It is also ideal for both live bait and plastic bait making it the perfect
multipurpose fishing rod for your different fishing ventures.
For most people, one of the biggest problems with fishing rods is easy breakage. Most
companies fail to find the balance between strength and weight which makes it
harder to find a rod that is easy to carry around but is still strong enough to
handle the fishing pressure. This Ugly Stik Elite Spinning Rod is very strong
yet is lightweight making it perfect for all types of fishermen. It is made using
graphite which ensures durability and easy portability at the same time. This
also makes its flexibility and easy to use resulting in a valuable product.
While the skills of an individual matter how a fishing rod is made also plays a big role
in whether one catches a fish or not. The combination of graphite and
fiberglass design increases the value of this rod whereas the clear tip makes
it very sensitive. The result is a beautiful product that is versatile as its
responsibilities are compatible with different types of lines.
For most people fishing is unpredictable as it is impossible to know how long one is
going to be doing it. As such, comfort is an important aspect of clothing to
the equipment. This rod comes with handles that are easy to grip ensuring you
remain steady and comfortable for hours. The hooks are also strong making them
reliable.
Benefits of using this rod
Fishing is one of the activities that families can partake in to have a bonding
experience. With the Ugly Stik Elite Spinning Rod, such experiences can become
better since it eliminates the stress of having to deal with an unreliable
fishing rod. All the pieces of this rod are designed to work together to give
users the best functionality whether they are using it for the first time or
have used it before.
Another reason why this rod is worth trying out is the ease of use that comes with it.
Trying out fishing for the first time can be intimidating especially if you
don't know how to cast to increase your chances of catching a fish. With this
rod, however, casting is simple, and the sensitive tip ensures you notice when
there's a bite. The spinning reels have blank seats, but the hoods are made of
stainless steel and cushioned making sure they remain steady which helps with
the easy operation of the rod.
Affordability often provides great relief, especially where rods are concerned. However, most
of the time the cheaper products end up getting worn out easily which ends up
imposing extra expenses to the users. This rod is affordable and is also of
high quality ensuring you save a lot of money in the short term and long term.
Some users have reported having this type of rod for over a decade which shows
just how durable they are.
Apart from amazing casts, these rods are also fast. They are perfect for people of all
ages who are interested in fishing. They have been known to catch both small
fish and big fish with ease with most customers reporting that it makes it more
fun to fight the fish. This means you will not have to buy different rods for
each family member as everyone can enjoy using this same rod.
Conclusion
The decades of experience that Ugly Stik Elite Spinning Rod has had in the fishing sector
has been manifested in different ways. It has had many improved features that
have improved its functionality resulting in more enjoyable fishing experiences
for users. All you have to do is choose the most befitting pole size and enjoy
your fishing trip. This is undoubtedly one of the best products ugly stick has
produced and is worth every cent.