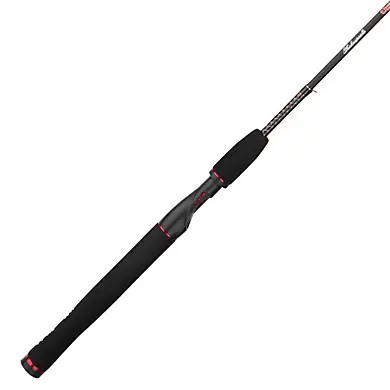 If you want to make your fishing escapades memorable and more exciting, the Ugly Stik GX2 spinning rod will help make this a reality. This rod is lighter and stronger compared to the previous Ugly Stik models. It is a highly reliable and durable rod. What more would anglers ask for? Ever since its release in 2013, this Ugly Stik rod has been a game changer, and every fisher is glad they added this rod to their fishing collection.
The Ugly Stik GX2 Spinning rod has the strength of the previous Ugly Stik rods, combined with recent upgrades that make it even better. It has a new rod design which integrates graphite into the fiberglass thereby giving it a matte black color. This finish is just impressive. The guides have a new single piece design and are now made of stainless steel, making the spinning rod even more durable. The balance point has been shifted to the rear end of the rod making it easier to cast. The effect of moving the balance point is easily recognizable when using this rod. You can now enjoy your fishing for long hours without any straining. This rod is very affordable, and you will get your value for money.
Let's talk about the unbelievable variety of configurations available for this fishing rod. This rod offers 15 casting models, 20 spinning models, and three pack rod options. You are simply spoiled for choice. Some of the signature characteristics of the Ugly Stik, such as the clear tip design, are still visible on the new model. 
Main features
Rod design – The new Ugly Tech technology has been used to combine graphite with fiberglass giving the rod a more appealing appearance. Other highlights include the silver and red diamond winding pattern above the grip. This gives the rod a classic, elegant look.
Clear Tip – the rod has the signature clear tip known for Ugly Stik fishing rods. Because of the clear tip, anglers can quickly identify this rod when stacked with other kinds of rods. The tip provides the sensitivity for the very light catches and the durability for the largest of strikes.
One-piece guides – The new guide design is probably the most noticeable change on this rod. Shakespeare has used Ugly Tuff engineering to make the guide single-piece and tougher to break. The preceding guides had a pop-out ceramic insert and were tough, but not as tough as the new stainless-steel one-piece guides. The durability of this rod has now gone through the roof.
The grip – The EVA material used to make the new grip is kind to your hands. You can now fish for long hours without getting inflammations or any discomfort. The material is strong and makes the rod even more durable. An Ugly Stik logo has been added at the end of the rod. You can now easily identify this rod from your fishing arsenal.
Warranty – The Ugly Stik GX2 spinning rod comes with a seven-year warranty. For such a durable piece of equipment, this is just amazing.
The Ugly Stik GX2 spinning rod offers the best price to value ratio compared to other fishing rods in the market. With prices starting below $40, you can even decide to purchase of few models and it still won't cost you an arm and a leg. This rod is a great and affordable gift idea for your fishing mates. Anglers also love it because it is lightweight and durable. You can use this rod for hours and you will be able to go back to your normal routine without experiencing fatigue. It allows you to push the limits while fishing and you still get back home with an intact fishing rod. You won't have sleepless nights when you lend this rod to your friends because you are quite confident, they will not break it. Its performance is excellent. For beginners or experienced fishers, you just cannot go wrong with this rod. Shakespeare has designed this rod purposely for your convenience and to ensure that you get value for your money. You will look forward to your fishing adventures once you start using this rod.