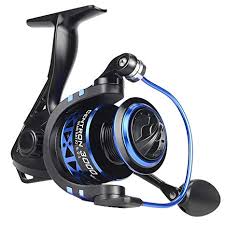 Most people especially those going fishing for the first time often believe that the fishing rod is the most important tool but that isn't always the case. Fishing reels are just as important and should, therefore, be paired with the perfect rod to make fishing easier. With many types of reels in the market, it can be confusing to know which ones are the best which is why you need to consider specific factors like price and quality before buying any. KastKing Centron Spinning Reel is undoubtedly one of the best reels you should consider due to its many features.
Features
• Durability
The body of this KastKing Centron Spinning Reel is made with graphite. This ensures it stays strong but is still lightweight enough for easy use and transportation. Even if you interchange it in saltwater and fresh water, this reel will stay in great shape for years. The screws and gears are made of different material but with proper care, they will also maintain their great performance and shape for a long time. If you buy it with the rod combo you will still enjoy durability as the rod is also made with graphite and stainless steel that makes them very strong.
• Variety
Most of the time a fishing expedition may fail because the type of reel being used isn't right. That's why this reel comes in different varieties for different objectives. Those who are aiming for a smaller type of fish can go for the 2000 size while those who hope to catch medium-sized fish or bigger can opt for the 3000 to 5000 sizes. Whatever size you pick, you can be sure that you have a good drag. Make sure you combine the reel with the best rod. For instance, 6′ M rods will be perfect for fish like bass and trout and should, therefore, be paired with reels that are great for such fish sizes. Consider the weight and length of the rod as well as when pairing it with a reel.
• Performance
The Kastking Centron Spinning Reel is made with the user in mind. The company understands that every person has different skill levels and will, therefore, need a reel that fulfills their different needs. As such, this Spinning Reel is made to suit different people whether they are pros at angling or are trying it out for the first time. Either way, you will have an amazing experience with this reel. It is easy to drag due to its rotor and aluminum spool, and when paired with the rod that comes with the package, your work will be made easier. It works perfectly on both saltwater and freshwater and is perfect for all types of fish ranging from catfish to salmon.
• Affordability
Affordability is always a common concern when buying any product and spinning reels are no exception. Like other KastKing products, this reel is one of the cheapest in the market. It, however, gives you great value which is more than what you will spend buying it.
• Advantages
Ease of use is the first advantage of this reel and the first reason why buying it is a good idea. Those who are going angling for the first time will enjoy using this reel more as it makes work easier for them. The triple drag feature ensures you don't struggle with your catch regardless of its size. When bought with the combo rod, you get a better experience thanks to the handles and fighting butts that increase comfort while you're fishing. The reels also have interchangeable handles that you can move to either side thereby improving operation and comfort.
With this reel, different types of casting are made possible. You can choose to cast further or closer depending on what you intend to catch. It has a great launch lip that improves power for those who wish to cast further ensuring you use less effort but still get the intended results. Compared to other reels, this one gives users more value. It works much better than most of the other types of reels that are more expensive. This helps you save a lot of money without sacrificing your fishing experience. It proves that you don't have to have the most expensive equipment in order to enjoy your fishing trip and even make good catches. Whether you want to fish on a pier, shoreline or try kayak fishing, this reel will work perfectly. You can use any line you want without worrying about how you will get your catch out of the water, thanks to the smooth and powerful drag it has. The gear ratio of this reel and the ball bearings are great. When combined with the anti-twist line roller, you get the best reel. With it, you can have better fishing trips whether you're alone or you have company. It is also great for those learning how to fish as well as those who are experts.
Conclusion
KastKing rarely disappoints with their products and this KastKing Centron Spinning Reel isn't any different. If you're a beginner, it's advisable to buy the spinning reel with the rod that comes with it to make your work easier but if you have the experience, you can use any other befitting rod. The competitive price offered for this reel is unmatched just like the kind of performance it offers.