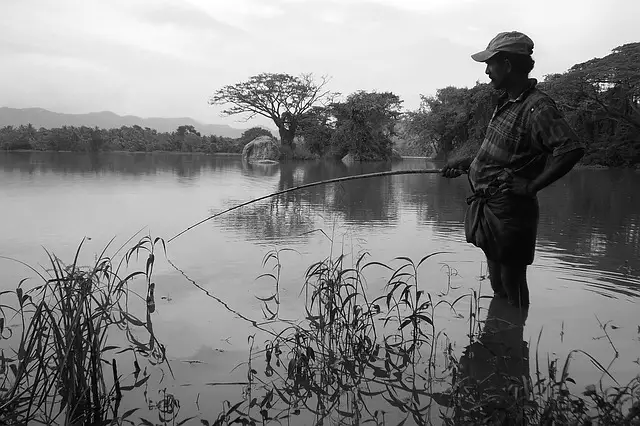 Fluorocarbon fishing lines have increasingly come up top in the fishing arena, mostly due to
their non-abrasive nature and invisibility under clear water. Most fishers are
getting drawn to fluorocarbon products because they are long-lasting and rated
for use in either salt or fresh water. The material also offers a smooth and
dense surface, which makes it easier for reeling and casting, along with better
adhesion to the water surface.
The Top 3 Fluorocarbon Lines
This is an amazing line that is renowned for its superior wet strength and resistance to
abrasion. Berkley Vanish features easy casting due to its flexibility, which
gives it a smooth and direct profile from rod tip to lure. It is made from 100%
fluorocarbon which refracts light exceptionally resulting in superior stealth
under water, making it a favorite among many anglers who enjoy hitting the
water without potentially spooking their catch.
Berkley Vanish works great as a leader or tippet material rather than a mainline
hence giving anglers an edge to be able to lure ''line shy'' fish. Moreover,
vanish fluorocarbon has the tensile strength and slickness to help spool up all
your fishing reels with minimal effort, even on a light mainline. To cut down
on costs, you could use Vanish as a leader line instead of using it to spool
the entire reel. The quality of the line will undoubtedly help you reel in more
fish.
Top Features:
• Invisibility under water – 100% fluorocarbon ensures the line will refract line
and remain clear underwater
• Offers easy casting
• Increased resistance to abrasion underwater
• Flexibility
• Superior wet strength – No absorbing features in water, thus ensuring a stronger and
smoother formula
Cons:
• Too Slick
• The line has too much knot memory
With superior density and the flexibility of nylon monofilament, Stern Flourocast
lines are an invaluable tool for anglers who enjoy deep lures and hard hook
sets. The material is virtually invisible to fish for more successful lures and
has the sensitivity to register even the slightest fish bite. Stern Fluorocast
is one of the best fluorocarbon fishing lines in the market because of its
brilliant knot and shock strength. This, coupled with the thin design, allow you
to cast easily under harsh conditions even when dealing with savage attacks
from large fish with sharp teeth. As a leader or tippet, Stern Fluorocast is
excellent to use on any mainline since it offers the density needed for a
fast-sinking cast that quickly strikes the target zone. Heavier wire or lead
mainlines can be boosted with this 100% fluorocarbon leader to gain improved
invincibility and abrasion resistance, leading to more strikes and ultimately
(with a bit of luck), a bigger catch. If you have been fishing for a long time,
you should have noticed that fish can over time, get wise to visible lines and
evade them. Therefore, it is essential to consider using the invisible Stern
Flurocast, which is a surefire way to land more fish.
Pros:
• Superb clarity under water for more strikes
• A 100% fluorocarbon that casts easily for effortless fishing;
• A heavy line that allows lures to run deeper
• Handles like nylon making for a vastly controllable line
• Low spool memory
• Ultrasensitive to the lightest bites
Cons:
• Too Slick
• Very stretchy
This is a high-quality fishing line with a 100% fluorocarbon performance. Seaguar Red
Label is strong, smooth, and flexible, making it ideal for both spinning and
baitcasting reels. Seaguar Red Label has near invisibility in clear water and
is ideal for freshwater or saltwater fishing. The subtle mix of toughness and softness offers ease
in casting and great bite sensitivity, meaning you will never miss a chance for
a quick hook. It has ample casting yardage for deep lures and density needed
for quick sinking. Other features that make it a favorite for avid and armature
anglers alike include UV resistance, reduced abrasion, low absorption, and
remarkable impact strength. Additionally, this line is durable due to its
resistance to chemical corrosion and cold weather. The yardage of the line
deems it perfect for mainlining; just hook it up to the spool, and you are good
to go. The line may tangle a bit, but you can fix this can by using heavier
lures to maintain the tension.
Pros:
• 100 Fluorocarbon Main Line
• Near-invisibility
• Super impact and tensile strength
• Easy casting and smoothness
• Excellent bite sensitivity
Cons:
• Knots on the line
• Tangles too much
Final Thoughts
The products reviewed above are all high-quality best sellers of fluorocarbon fishing line.
Fluorocarbon material has been a real improvement on traditional monofilament
and wire lines, especially due to its near-invisibility feature, and
outstanding high impact strength. Fluorocarbon lines are easy to cast due to their smoothness
and thin diameter, and they have excellent sensitivity to even the slightest
bite for more effective baiting and reeling. Such exquisite features have made
these fishing lines stand out and a favorite for avid anglers looking for great
fishing gadget.