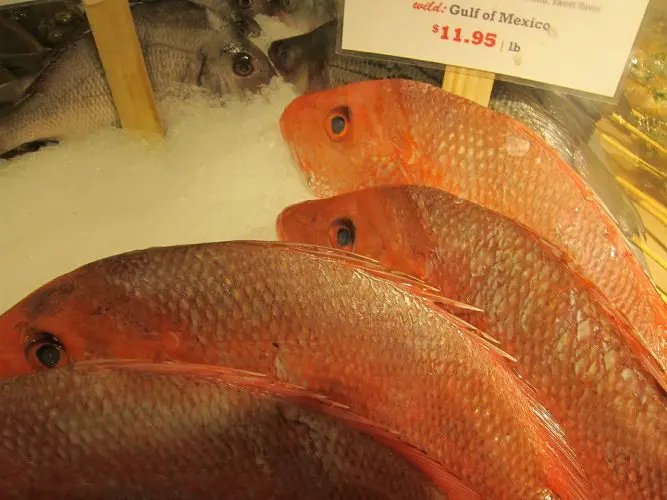 From silk to lane and red to yellow, some of the best meals
in the world can be made from the snapper. Irrespective of which recipe you
choose, snapper always brings out a tasty and delicious flavor. Unfortunately,
not all of us are equipped with a snapper recipe cookbook. This is why we have
taken the initiative to list out the top snapper recipes from all corners of
the world. These are recipes that don't guarantee boredom since they vary from
being baked, grilled and barbecued. Moreover, they go alongside with other
servings such as spaghetti and much more.
1. Snapper with Macadamia Pesto and Bean Salad
The snapper with macadamia pesto and bean salad is a 5-star meal which is gluten-free. It is the
perfect idea for an indoor dinner with either friends or family. The snapper is
served with creamy macadamia pesto spiked with lime and coriander.
Here are the ingredients you will need for a meal of 2;
• Four snapper fillets each weighing at least 200g.
• ½ kg sweet potato peeled and cut into smaller pieces.
• 1 ½ tablespoon of extra virgin oil.
• Two small red onions which should be sliced into smaller
round pieces.
• A tablespoon of lime juice.
• 300g of green beans.
• 100g of toasted macadamia.
• fresh pack of coriander leaves.
• ½ glass of water.
To prepare this meal, you will need a food processor
equipment.
The Method
1st You will need to preheat the oven to 400F. Use baking paper to line your baking tray.
The chopped potatoes should be placed on the tray. This should be processed by
spreading one tablespoon of oil. You can then roast it for half an hour until
it achieves a golden appearance.
2nd Using your food processor, chop the pesto,
macadamias, garlic and coriander. Add lime juice and water in low amounts until
the combination is smooth.
3rd The third step entails placing the onions you had
chopped earlier in a heatproof bowl. Cover it with boiling water. Allow it to
settle for about 5 minutes before you put it in a large bowl.
4th You can then start preparing your snapper. First
heat the oil you have been left with, in a frying pan. It should be big enough
to accommodate four (200g) snapper fillets. Before dipping the snapper in the
oil, ensure that you have dried it with a paper towel. Cook the snapper for
three to four minutes until it turns crisp. Don't forget to turn it so that it
doesn't only cook on one side.
Final Step:You can conclude by adding sweet potato,
onion mixture, beans and pesto. Stir it lightly so that you don't damage the
fine shape of these ingredients. You can then divide the snapper among the
serving plates.
2. Baked Massaman Snapper
If you feel like you have had enough of snapper, then you
have never tried the baked massaman snapper. This meal is finger licking.
Here are the ingredients you will need for a meal of 2;
• Four 200g pieces of snapper fillet.
• Two tablespoons of massaman curry paste.
• Peanut oil.
• 200g of beans.
• 100g of butter.
• Sliced pieces of cloves garlic.
• Two limes.
• A tablespoon of caster sugar.
• A yoghurt flavor of your choice. This is, however,
optional.
The Method
1st Similar to the above recipe, you will first have
to preheat your oven. But this time it should reach a temperature of 220C.
After you are done with lining your oven tray with baking paper, you should
whisk curry paste and oil when putting in a bowl.
2nd The second step is crucial. Place the fish on the
tray. And before you begin baking it, brush the curry mixture you had prepared
in step 1. Allow it to bake for 15 minutes. Afterwards, you should allow the
snapper to rest for at least ten minutes.
3rd The third step entails softening the beans by
placing them in boiling water for three minutes. You should drain this water
and replace it in iced water severally.
4th On a medium sized frying pan, you should heat the
butter. On that mix, add mushrooms and garlic. Stir this for 5 minutes. Add
sugar, beans, lime juice and capsicum. Stir fry it for some extra three minutes
till the mixture is tender.
Final Step: Share the baked massaman snapper on
serving plates. It tastes better when served with yoghurt.
3. Barbecued Snapper with Butter and Lemon
There is nothing that tastes better than barbecued snapper,
especially if it is prepared with lemon and butter. This fresh snappy dish is
best for weekends when you are in the mood to cook and change your diet.
Here are the ingredients you will need for a meal of 4:
• Four 400g whole baby snappers.
• Two sliced lemons.
• Eight fresh parsley sprigs.
• 100g of chopped butter.
• Baby potatoes steamed or fried.
• Parsley which has been finely chopped.
• Lemon wedges for serving.
You should have four by eighty centimeters of foil and some
baking paper.
The Method
1st Preheat the barbecue on medium heat. Do this when the hood is shut down.
Proceed to rinse the fish both on the inside and outside with water. Dry the
fish with a paper towel. Make at least three cuts that are 2 cm deep. This will
allow the fish to cook evenly.
2nd Start by putting a piece of baking paper in the
middle of the foil. Then, place one fish in the middle of each foil.
3rd Equally cut the lemon and parsley while placing
it in between the fish spacing. Also, place an eighth of butter in these cuts.
Use and salt and pepper to season the snapper. Fold the edges of these foils
and roll up what's left to cover the fish.
Final Step: With the hood still closed, allow the
spanner fish to cook for ten minutes. You can then serve it with lemon wedges
or mash potatoes.
Final Thoughts
Do you have a craving for snapper? Then you can alternate in
between these three tasty snapper recipes to prepare the perfect meal. Gone are
the days when the only way to cook snapper was just by frying it. Thanks to the
many snapper recipes that exist, its taste can never grow monotonous to your
taste buds.