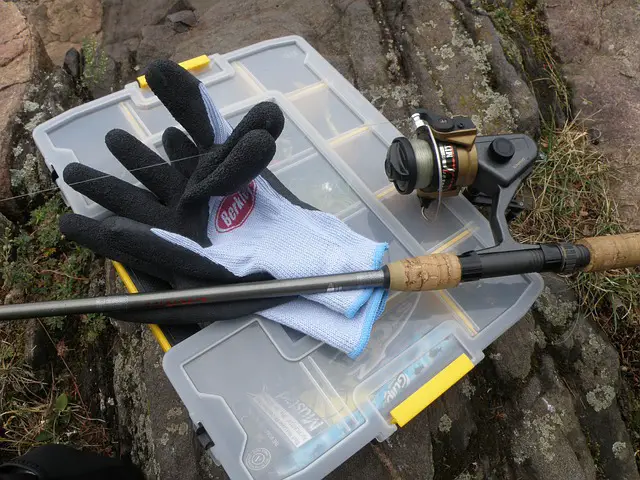 The flavor of salmon together with the fun that comes with fishing for it makes most
people opt for it. However, salmon fishing requires a lot of tools that are
usually intimidating to first-time anglers. Apart from rods and reels, you also
need smaller accessories such as lures, sinkers, swivels, and weights. You also
need to know how to match them perfectly in order to increase your chances of
catching a salmon and to make the trip smoother. For instance, you will need
longer powerful rods with spinning reels if you're starting out. Those who have
experience can use bait casting reels. All this means that you need the best
salmon fishing tackle for your first and subsequent fishing trips.
This is one of the most effective and convenient tackle boxes you can come across. It is
suitable for both freshwater and saltwater which means the items are strong
enough to endure the saltwater conditions. The salmon fishing tackle box is
conveniently divided into two sections which makes it easy to separate the
contents. The two main compartments are further divided into smaller sections
that are used to store each type of equipment separately. The parts are made
using transparent material which makes it easier to find what you need when you
need it.  
Some of the accessories you'll find inside include both bullet weights and drop shot
weights, barrel swivels, swivel slides, rings, and jig heads among others. All
the accessories come in multiple numbers and some are in different varieties
which makes it easier to choose the ones you're comfortable with. The
combination also makes the tackle suitable for both beginner's anglers and
experienced ones. With this, you'll not miss any essential item for your salmon
fishing trip which translates to a better experience.
The price at which you get this product is great and it is easily portable switch means
traveling with it shouldn't be a problem. It can also be used when surf fishing
and when inshore fishing. In addition, you also get a different tackle box
showing that this product offers you great value for money.
The first thing you'll most likely notice about this salmon fishing tackle is the
beautiful modern design it is made of. The aluminum frame ensures durability no
matter how frequently it used even if it's under different conditions. It is
also shaped nicely and made with the correct size to ensure it fits into your
hand perfectly ensuring your comfort while you fish. The handle which is also
made with rubber prevents your hand from slipping as it enhances your grip.
The spool in this reel is also made of aluminum to enhance strength and durability. The
spool holds more than 150 yards of a line which is great for long casts. The
spool is also designed to ease the casts with its thumb bar release. The line
also makes it easy to fish even if there is adrift. With this reel, you can use
any appropriate technique for salmon fishing whether it is in a lake, ocean, or
rivers.
The versatility of this reel is another great feature that makes it worth buying.
The handle is well developed for both left-handed and right-handed people. It
is easy to grip with additional padding that helps make the grip firm. It
caters for all the possibilities that you may encounter while fishing for your
salmon such as trolling, back trolling and back bouncing. Made with the latest
clear view technology, you get a clear vision even when there's fog.
The portability of this rod is one of the obvious features than one notices when
buying. It can be easily carried around in a car, rucksack or bag. It can also
fit an airplane's cabin baggage which means you can take it with you on your
vacation trip if fishing is one of the activities, you're interested in. It
consists of 7 pieces which are 8.5 ft long which means you can make all the
long casts you wish.
This travel rod is one of the highest quality fishing rods in the market. It is made with
nano carbon on 6 sections and an additional fiberglass tip on the last section.
Its reel seat is made of graphite whereas the handle is made of EVA. All these
show that the rod cannot be destroyed easily, and it has the utmost power to
deliver.
Rigged & ready has made this rod to perfection. They have considered many needs and made
it suit different preferences such as spin fishing, coarse fishing, game
fishing and salmon fishing among others. As such, you can still use this rod
when you're targeting other types of fish that aren't salmon.
Conclusion
Whether you decide to go drift fishing, trolling or plunking, the salmon fishing tackle
above will help you achieve your goals. They can help you catch a wide variety
of salmon species on different types of water bodies with minimal effort which
results in more enjoyable salmon fishing experiences. They also increase your
chances of being successful regardless of whether you're a learning angler or
have had some experiences in that type of fishing.