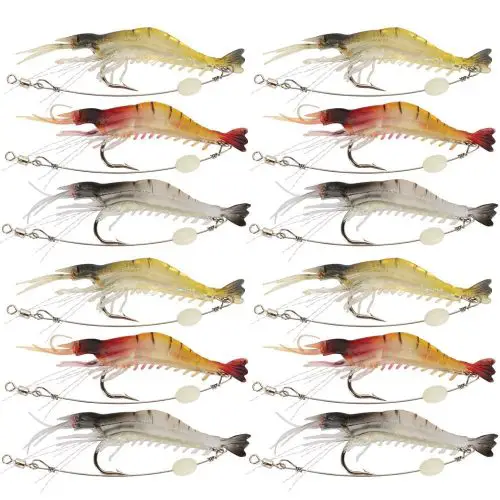 Salmon belongs to a family of fish species that love to migrate. They are commonly
found in the Great Lakes, the Pacific coast, and the North Atlantic coast. They
are freshwater fish, but those with access to oceans can migrate there. The
exact gear and methods for salmon fishing depend on the season, species, and
region and you should use the best bait for salmon fishing that is effective.
Top Picks for Lures for Salmon Fishing
This bait is designed to be quite effective at showing off advanced fishing techniques. With
this, you can catch a truckload of salmon. It is to be used in conjunction with
a fishing hook. Even if you are a beginner or a professional who wants to catch
big salmon and enjoy it with friends and family, you can use this bait to show
off your fishing technique and style to everyone. The lures look like a real
shrimp to mimic what a fish would be looking to eat in its native habitat and
moves in life like motions. Another bonus of these lures are they glow in the
dark. If you "charge" them up every few times at night, it could help with your
catch.
This soft fishing bait can propel itself forward. Moreover, it is slow-sinking and ideal for
freshwater salmon but will also work well in saltwater. The lure has been
crafted carefully so that it can be used with any given fishing rod. It is
innovatively designed to catch salmon in an instant if you use the right technique
but should work well with their natural motion for you too. It is made of
quality plastic that makes it soft and flexible. The innovative design makes it
difficult for salmon to resist. Other than salmon fishing, you can use it for a
wide range of species.
This is top lure for salmon fishing comes from Top Concept. The design of this lure is quite
simple: a concave metal piece with a treble hook at the end. The hooks are very
sharp to help increase your catches and make fishing more fun.
Salmon like other fish species uses the lateral line to follow the vortices. The
oscillating movements of spoon bait are a great way of imitating these. The
shiny mirror finishes are quite effective during the mornings and evenings, as
the sunlight mimics the flash of white-bellied prey fish. These baits are dyed,
silver, and gold-plated to offer the bait a more brilliant and vibrant
appearance. Other than salmon fishing, you can use them for Bass, Panfish, and
Trout. Use them in pond, pool, river, lake, and sea.
ZNCMRR Fishing Lures are designed to catch any fish species anywhere, anytime. This
bait kit is available in different colors that can fit various conditions and
can target popular species such as salmon, and has 30 lures in it in total. You
can use it during any season, but salmon fishing is quite popular during the
summer. This salmon lure is made of steel metal and each lure weighs about 4g.
It has a perfect design that mimics life-like swimming action. The bright
colors are meant to attract big fish like salmon. You can also use these baits
to catch bass, trout, pike, walleye, pike, and perch.  
The metal spoons rotate in water to ripple and make noise to attract fish. Also, they can
reflect the light rays to attract big fish. You will find them easy to throw
and use. In fact, even beginners can quickly control them. These fishing lures
are a perfect gift to any avid fisherman. It is ideal for ocean rock fishing,
ocean boat fishing, river reservoir, stream, pond, and whether in summer, spring,
or winter.
They are made of super-realistic paint. In fact, they make fish think that the bait is
real fish so that you can catch them easily. You will find them ideal for ocean
beach fishing, pond, stream, and river. The kit contains a large variety of lures.
These baits are widely used by many fishermen. They are carefully chosen to
meet the needs of various varieties of fish you can catch. The worms are
available in different sizes and styles.
The hooks provide the much-needed capability that makes it a powerful and useful fishing
tool. These baits are known to deliver superior performance and can be used
both during the day and night. Being a high-quality bait set, it is ideal for
both experienced and beginner fishermen. Also, you can give it as a gift to
avid fishermen. It is compact and easy to take around.
The kit includes a metal spoon crankbait, VIB minnow, a topwater lure, 10 metal spinning
lures, 3 spinnerbaits, 2 fishing topwater frog lures, and 3 different types of
worm lures for a total of 18 of them. They have an average rating of four out
of five stars.