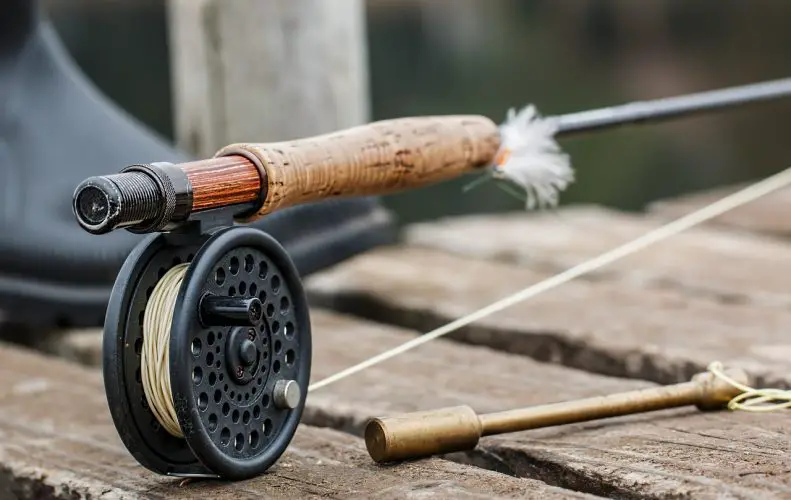 Trout fishing is one of the most common types of fishing among anglers and for an
incredibly good reason. Trout species come in many sizes, and it is one of the
easiest fish species to catch, making it ideal for beginners and fun for
experienced anglers as well. To get the best results when you are fishing for
trout, you have to have a perfect rod that is designed and constructed with the
appropriate combination of strength and sensitivity required for freshwater
fishing.
When it comes to most fishing styles, you will find plenty of rods specifically
designed for trout on the market along with some with incredible sounding
trimmings. At times simplicity is typically the way to go.
The Best Trout Rods
The Ugly Stik Elite rod is among the best trout rods available on the market today. The
manufacturer has managed to design an even better trout fishing rod than the
popular original GX2 series of fishing rods. The Ugly Stik Elite rod is an
upgraded version which has proven itself over time as one of the best
ultra-light spinning rods available.
When it comes to the Elite series of fishing rod blanks the Ugly Stik has included 35%
more graphite to its Ugly Technology manufacturing process and design. The
increased level of graphite has resulted in a more precise and lighter blank
with better sensitivity than the original version. The Ugly Tuff leaders
utilized on the Elite does not have any inserts. The absence of inserts has not
only assisted in reducing the weight of the guide inserts on the rod but can
also reduce the line wear as well. The single piece-built guides are shaped
into a smooth item which enables the line to run easily through them with minimal
friction leading to greater precision and longer casts. The range is either
available in two or one piece variations and several power, action and length
ratings.
The Ugly Stik Elite is the best spinning rod for fishing trout especially if you're on a
budget. It's the ideal fishing rod when using light bait or lures on different
types of water.
Features
• Ugly Tuff one-piece line guides
• Clear Tip technology
• Superb value
• Next generation Elite series
The Fenwick Eagle fishing rod is suitable for trout, bass, salmon, and walleye. Even though
Fenwick is not as popular as St. Croix or G.Loomis, it offers some of the best
budget-friendly fishing rods. This trout rod has graphite blank, and the holder
of this fishing rod is remarkable. The B2 burled stopper is more powerful and
offers chip resistant than conventional spinning rods, but it still maintains
the lightweight feel as well. The rod feels comfortable, and the stainless-steel
guide frames and inserts make it corrosion resistant, lightweight and durable.
The guides are made of plated chromium which can handle braided and tough line.
The guides are incredibly light and long-lasting when compared to regular
aluminum guides.
The fishing rod comes with a soft and pretty sensitive tip which can identify even the
slightest movement for better trout fishing. Finally, this trout rod offers you
a good value for your money due to the great guides, durability, and resistance
to corrosion.
Features
• Comfortable burled cork handles
• Corrosion resistant and stainless-steel inserts and guides
• Sensitive and responsive
• Value for your money
• The two-piece rod is pretty easy to transport
These spinning rods for fishing trout are constructed on St Croix's top SCII
graphite. These rods range comes with a variety of powers and actions that can
satisfy any angler. Every rod has hard aluminum oxide guides and a high-quality
cork grip handle. The reel seat comes from Fuji, and St Croix offers a
five-year warranty for the fishing rods. You also have the alternative to buy
as a 2-piece rod so it might be right to put in the back of your vehicle for
use after work.
Features
• Fuji reel seat
• SCII graphite
• Aluminum Oxide guides
• Tuned action and fast taper
If you're looking for a great trout rod for fishing as a beginner, the Shimano two Piece
rod is what you need. It's a fast action fishing rod which is made from lightweight
carbon, and it also provides easy angling. The rod is properly built and has
smooth foam grips and a high-quality custom reel seat design and
well-structured guides. It's appropriate for a broad range of fishing
techniques, but more specifically trout and Pan fishing.
One of the main outstanding features of this fishing rod is the long-lasting Aero glass rod,
which is sensitive and flexible, such that you'll feel the smallest bite from a
fish. The Shimano rod also allows you to cast further, which means that you
will catch even more fish than you did before. It has comfortable cork handles
that provide you with easier and more control over the whole fishing rod when
you are dealing with the huge fish. It has a strong graphite reel seat that
makes it easy to lock fast.
Features
• Lightweight
• The cork handles are great for the hands
• It's cost-effective
• Highly sensitive
• Travel-friendly
• Provides superior balance
• Feels incredibly convenient when handling
• Long lasting and can handle extended bending
G.Loomis is among the best trout rod manufacturers exceptionally famous for offering the
most expensive and highest quality fishing rods. This rod is made specifically
for trout anglers. It is built with G.Loomis' graphite which makes it pretty
durable yet incredibly lightweight. It comes in two models: The GLX type and
the regular, Non-GLX model. The regular fishing rod contains single foot
Alconite guides from Fuji which is greatly resistant to wear and tear. The GLX
types come with durable Recoil guides which are durable as well. The regular model's handle has a blend
of a traditional cork and composite cork, but the GLX type comes with a foam
handle which provides a better grip. The focus of this fishing rod is to make
fishing for trout more effective and comfortable.
Features
• Extremely responsive and Sensitive
• Great tip action
• Strong fiber blend blank
• A high-quality fishing rod which is also durable and robust
Trout Fishing Rod Buying Guide
One of the first things most professionals will tell you about fishing the right way is
finding the appropriate fishing equipment. In the same way, you can lose your
direction and balance with a tight pair of shoes while you are on the field,
you would lose your focus and power on fishing with the wrong fishing rod. The
suitable fishing rod, purchased after careful consideration, assists you in
landing some fish without any potential dangers. It even offers you a better
chance and edge at hooking bass, the true indication of a talented angler. The
best method for choosing a fishing rod for trout is to consider it as essential
as purchasing a brand-new pair of shoes. That might sound challenging for most
people, but you should consider the following factors when selecting a suitable
fishing rod.
Grip Handles
You should carefully consider the grip handles when you are looking for the best trout rod
to buy. Whether you prefer foam or cork, you should lift it and make a couple
of false flicks to ensure that it is comfortable enough for all your casting
days.
Rod Length
The fishing rod's length you select for the most part should be defined by the water size
in which you plan to fish at most frequently. A longer rod will typically cast
further compared to a shorter rod because it serves as a long lever. The ideal
rod length for the best trout rod is approximately 6 to 8 feet. The length you
settle for should be influenced by where you intend to go fishing. You can buy
an 8-foot fishing rod, for instance, when fishing in an open stream. A shorter
rod length would work well when fishing in low streams with overgrowth.
Reel Seat
A reel seat is basic, but there are limited options. Most anglers prefer reel seats that
enable them to easily feel the blank using their finger when holding the reel
and rod. Determining the perfect reel seat is entirely dependent on the
preference of the angler. Some of the reel seats are wider than others;
initiate placement will vary, together with the size of the seat's nut. Ensure
that you hold many rods to get the reel seat that will be most comfortable and
right for you. If a fishing rod is not comfortable to hold, then an ideal
combination of length, action, and power is irrelevant. Pay a lot of attention
to the grip shape on spinning rods although some of them do not have grips.
Always test a reel on the best trout rod you would like to buy to see how each
combination feels.
Rod Power
When you are buying a fishing rod for trout, you should consider going for an ultralight to
light power rating. This rating is usually printed on the fishing rod blank
close to the handle and should also have the correct weight range that the
fishing pole is suited to.
Rod Action
For better sensitivity on the tip and more accurate casting using light lures a quick
action rod is usually preferred. A medium to slow action fishing rod is
generally utilized for big crankbait fishing, but it's not good for ultralight
trout fishing rods. High-quality fishing lines are those that are incredibly
smooth such that they transfer the vibrations making it easy to detect whenever
a fish bite. In this case, ceramic guides are typically recommended.
Line guides
Fishing line guides are also as essential as the blank of the rod. Quality guides allow
anglers to detect any strikes transmitted via the line to the fishing rod
blank. Most line guides range from good to great when it comes to quality.
Therefore, the price of every level of quality varies tremendously. Standard
and micro line guides are the right sizes for freshwater rods, while micro
guides are small guides usually utilized on fly-fishing equipment. Select the
size that will work best for you. Because the proper placement of a line guide
is vital, check the rod before buying to ensure that the guides line up.
Rod Construction
For the great part, the best trout rods are generally made of Graphite. However, you
will also find some blended fishing rods on the market. Some are blended using
fiberglass to assist with sensitivity and durability. Whether you select a cork
or foam handle, it's entirely up to you, and the one you prefer has very little
to no effect when it comes to the casting performance of your fishing rod. Look
check the trout fishing pole well especially if you want to use it for an
extended period. The slightest tad of weight on some of them can make them snap
when left on the ground.
Conclusion
There is no point in pairing a costly fishing reel with a low-quality rod. If you want to
cast light lures that have incredible accuracy, then selecting the best trout
rod is vital. Trout are well known to spook, therefore making sure that you
have a piece of proper ultralight equipment is crucial to achieving more
strikes. If you're looking for the most sensitive and lightest rod, you can go
for a graphite one. But, if durability is your top priority, then fiberglass
material will be your best bet. However, you can always consider selecting a
composite rod that blends fiberglass with graphite. You can also buy a set up
as one of the various combos available. Combos are an excellent alternative for
people who are just starting in fishing trout. Most individuals tend to
overlook the significance of utilizing the right fishing rod for each fish
species. However, as we have discovered in this review of the best trout rods,
being able to get one that's specifically designed for fishing trout can make
your life a bit easier.