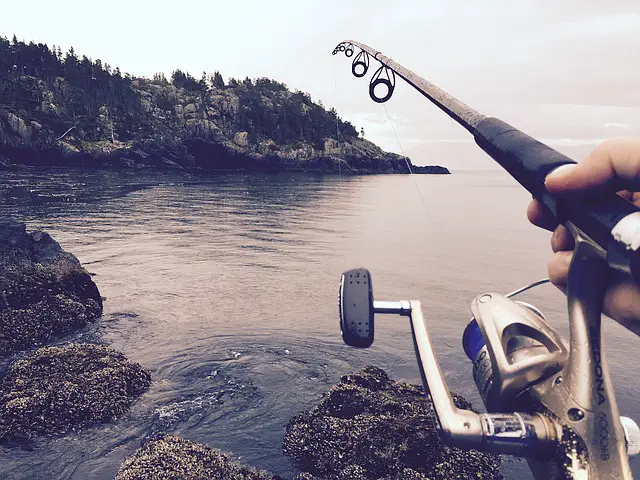 Catfish anglers tend to waste money and time when trying to understand the features they need in a catfish reel. Most of them underestimate the demands the reel will meet and the catfish species they're targeting. As a catfish angler, you need to have background knowledge on how the fishing tool will work to your advantage.
Types of Catfish Reels
Baitcast reels, spinning reels and spincast reels are the three main types of catfish reels. The three tools come with a handle to provide you a firm grip and a fishing line for helping you catch fish. Their differences emerge on how they can help you use various fishing techniques to catch target species.
Baitcast Reels
Most catfish anglers prefer using baitcast reels over other reels, because they can catch all catfish species. To allow you to employ different finishing techniques, baitcast reels have proper gear ratios, good line capacity, wide rod selection and complex drag systems. You'll also find them with different price ranges.
Spinning Reels
Spinning reels come with a wire bale that makes casting possible when flipped back and forth. The heavier ones are suitable for saltwater fishing since they have good drag systems. However, spinning reels have a limited selection of bait clicker reels and catfish rods.
Spincast Reels
Spincast reels favor beginners since they come with lightweight features for catching small fish. They have a limited line capacity, poor drag systems and poorly designed bait clickers. They also limit the fishing techniques you'll use.
Top 3 Best Catfish Reels on the Market
The C3-6500 Ambassadeur Cattish Special Round Reel from Abu Garcia is a round Baitcast reel specifically made for catfish fishing. It comes with a power knob and an extended bent cranking handle to allow high-torque cranking. The extended bent handle's design gives the anglers plenty of leverage and a firm grip. It comes outfitted with a power knob for delivering the cranking power and added torque required to make big catches. 
You can rely on the Abu Garcia C3-6500 catfish reel to make the most when fishing big blues, channel cats and other catfish species. It also features 1 roller bearing, 3 stainless steel ball bearings and a 6-pin centrifugal brake. The stainless-steel ball bearings deliver fluid operation needed for you to make the most out of the fishing activity.
The fishing reel has a Carbon Matrix drag system that makes it effortless to retrieve from water. It gives you the performance you need to fish the fiercest catfish species. The system comprises of drag washers that ensure that the line breaks operate at a consistent speed. The 6-pin centrifugal brake system included in the C3-6500 helps you boost range and control by exerting consistent brake pressure on the cast.
The C3-6500 weighs 11.6oz, has a gear ratio of 5:3:1 and has a maximum drag of 15lbs. Its braid capacity stands at 310/30 (yds/lbs) while its mono capacity stands at 320/12 (yds/lbs).
With red side plates and spool built from high-grade aluminum, KastKing Rover Round is an ideal baitcast reel for saltwater fishing. It comes with precision machined stainless steel components and brass worm shaft that give it superior protection against saltwater corrosion. The reel offers anglers all the necessary tools they need to make big catches. It works well when you're wreck fishing for bottom feeders, trolling offshore fishing for large fish species or targeting giant catfish. 
The superior carbon fiber drag included in the KastKing Rover reel delivers incredible performance and power. The baitcast reel also comes with a new thicker outer shell that makes it more attractive than the previous models from KastKing. It features an oversized T handle to boost the grip control and a gear ratio of 3:6:1 to reduce fatigue when casting. It also comes with deep race ball bearings made of premium shielded stainless steel for smooth operation.
Unlike most baitcast reels in the market, the KastKing Rover Round is bullet proof. The equipment can offer smooth drag of up to 20lb / 9kg. It boasts of easy access thumb bar spool release, classic design, line out clicker alarm and oversized nonslip EVA grips. The baitcast reel is available in 12 colors.
As a heavy action reel, the Daiwa DF100A offers a large line capacity to catch the largest catfish you can effortlessly. It prides itself as the perfectly sized reel for saltwater fishing and targeting all catfish species. The reel comes with fully anodized lightweight aluminum spool and stainless-steel main shaft for the greater corrosion resistance. With a weight of 30oz, the equipment also features 1 efficient stainless-steel ball bearing system, a multi-disc drag system and durable metal gears. 
The multi-disc drag guarantees you of incredible performance speeds and power. Consequently, the single stainless-steel ball bearing system aims at delivering smooth operation when casting. DF100A can allow for casting lures such as crankbaits, spinner baits and jigs with pinpoint accuracy. It can allow you to launch a lure since the line will flow in a straight direction off the spool rather than in a circular motion.
The DF100A comes constructed with a tough metal body boasting of a 3:4:1 gear ratio. This means that its spool can rotate 3.4 times when you turn the handle once. In this case, the number before the colon represents the rotations the spool can make when the reel's handle turns once.
With a retail price of around $30, the product's other notable features include 1-inch cinch straps and 20-inch stacking sticks. The reel suits the interests of catfish anglers since it is compact for easy transportation and comes with interlocking angled steps for safe climbing. It also measures 9.8 x 4.7 x 9.8 inches in dimensions.
Get out there and enjoy some good fishing with a nice catfish reel and then enjoy a good meal.