A fishing rod is a long, flexible rod that is used to catch fish. It is simply a pole or stick, preferably 2 to 20 feet long, attached to a line that ends in a hook/angle. The hook is normally laced with a bait or lures to entice the fish. To avoid tangling and assist in landing the fish, the line is stored on a reel. The traditional rods were made of bamboo while the more contemporary ones are made of fiberglass or carbon fiber.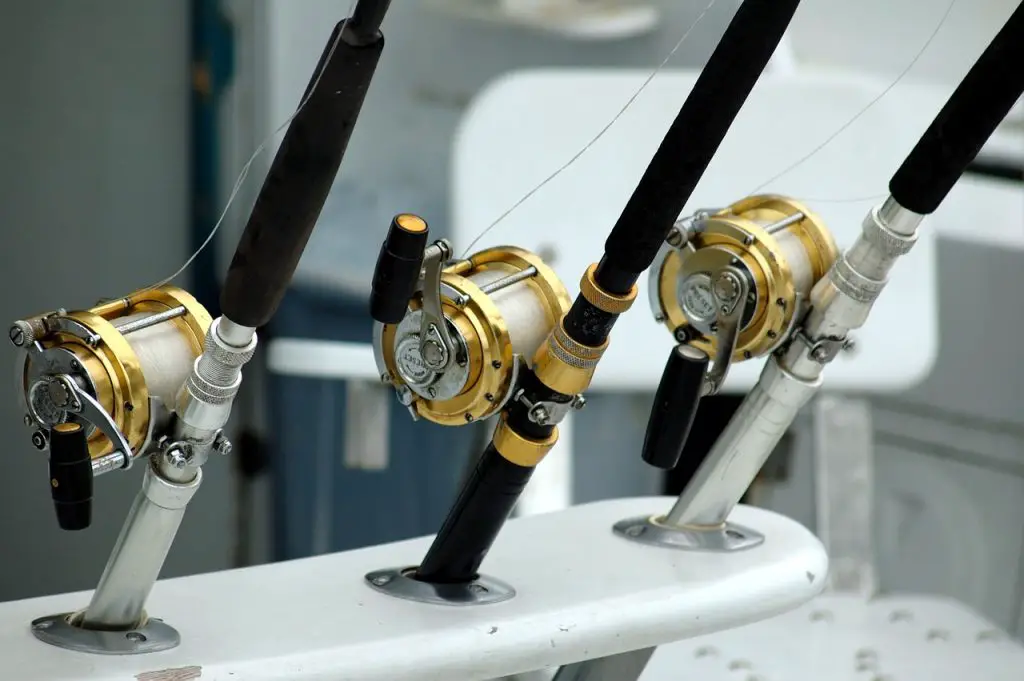 Types of Rods
There are
several types of rods in the market today. They are constructed from different
materials; the most common being fiberglass, graphite and the more recent
carbon fiber. There are different types of rods including:
– Carbon fiber rods
– Fly rods
– Tenkara rods
– IM/Modulus
– Spin casting rods
-Baitcasting rods
– Spinning rods
-Ultra-light rods
– Ice rods
– Sea rods
– Surf rods
– Trolling rods
– Telescopic rods
When itcomes to fishing, the type of fish normally dictates the size and type of rod
used. For instance, when fishing cod. Cod is a common name of the demersal fish
and other fish species. These fish live in the colder waters and deeper sea
region of the North Atlantic and the Pacific. It is a popular seafood delicacy
due to its nutritional value, therefore, more demand for it. Fishermen need to
get the right fishing rods for this big fish.
The typical fishing rod for cod should be heavy duty with an average length between 6'6"
and 7'6" with fast to extra-fast action conventional rod rated for 50lb braid.
Which fishing rods are available in the market for the fishing of cod?
For a long time, the rods used for cod fishing were long and heavy in order to handle the
weight and provide enough length to work the jigs effectively. The more
conventional rods come with braided lines with a thinner diameter and much less
water resistance. Below is a guide for the best and most effective rods for
fishing cod:
The Penn Bluewater Carnage Rod is a very affordable rod for first-time and expert fishermen. It offers incredible strength and high-quality components at a price that most fishermen can afford. With an overall 9 out of 10 ranking, this outstanding rod is a one-piece blank of graphite composer fiber. These blanks serve to reinforce the rod and protect the inner composition of the rod. However, the handles and line guides are different for each model of the Penn Bluewater rods available in the market. There are three common models available which are:
A. Penn Bluewater Carnage Boat Rods
The first model under the boat rods is a 6'6" heavy power rod with a 30-80-pound mono
line and 8-line guides.
The second one is a 7'10" long rod with 9 tungsten carbide guidelines
The third rod stretches out to 7 feet, with medium light power with a C style slick butt
handle.
B. Penn Bluewater Carnage Jigging Rods
There are 5 existing different jigging rods, with the 5' and 8' available. It rates for
80-130 pounds' lines with 8 Fuji guides.
C. Penn Bluewater Carnage Trolling Rods
Features of the Penn Bluewater Carnage Rod
i. Comes with a one-piece blank of fiber composite graphite material with a woven
outside wrap. It reinforces the rod while protecting it from damage
ii. High-quality Fuji-framed guidelines
iii. Hardloy inserts that use a very strong aluminum oxide material which provides for a
more stable grip around the ring frame
iv. Tungsten alloy inserts for extra strength.
v. Fuji reel seats.
vi. A split EVA style handle with a torque grip
Although there are not too many models left of the Penn Bluewater, getting one of these
is of great importance as they work for all your angling needs.
Shimano has introduced a wide variety of the Teramar Northeast rods which include nine
casting and seven spinning rods capable of handling large fish species. They
are present in 6'6" and 7'6" lengths with 15 to 80-pound PowerPro braid
guidelines. Below are the features of this rod:
i. TC4 constructed blank for extra reinforcement.
ii. Fuji aluminium oxide guidelines giving the rod outstanding strength and durability
for cold saltwater fishing.
iii. A custom EVA handle grip.
iv. Medium-heavy power and yet very powerful
v. Comes with the Fuji reel seat
The Teramar Northeast Inshore Casting rods come with specifically designed features that
make it highly capable and suitable to tackle the cold salty waters where
codfish live. The TC4 constructed blank, found in most popular fishing rods,
gives this rod extra strength and durability, making it an ideal tool for cod
fishing. The Shimano 6'6" Teramar NE casting rod with medium heavy power is
especially highly suitable for inshore saltwater.
The St. Croix Inshore spinning rods are specialized inshore saltwater rods designed and
created for superior performance. It is an extremely lightweight and
well-designed specifically for inshore saltwater fishing. It is a 100%
handcrafted rod. It features the best spinning ability of all other rods in the
market. The St. Croix Inshore spinning rod is also very affordable, although
not cheap, it gives you value for its high-quality build and components.
Features of the St. Croix Inshore Spinning Rod
i. Comes with premium quality SCII graphite blank for reinforcement, strength and high
sensitivity
ii. Batson Forecast hard aluminum oxide guidelines with 316 stainless steel corrosion
resistant black frames compared to the regular 304 stainless steel frames
iii. Fuji DPS reel seat with black hoods on the spinning models to prevent any slop when
transferring the feel of the fish and increase sensitivity
iv. Split grip and premium grade cork handle for a highly appealing look, more durability
and a stronger grip.
v. A Kigan hook keeper
vi. Two coats of Flex-Coat slow-cure finish. It is an epoxy finish that seals the rod
wraps effectively for a long lifespan and a clean overall look.
vii. Medium-heavy power with fast action
viii. It also comes in 7-inch length.
These rods are incredibly durable and deliver a high performance for all their spinning
and casting configurations. However, for saltwater fishing, the inshore
spinning rods are the most recommended. This product also features 3.6 out of 5
rating and comes with a five-year guaranteed warranty. This rod gives the
fisherman the control of where to place the lure or bait with incredible
balance. It also offers three different handles.
The Fury Series boasts all the essential features that all serious anglers are looking
for. The rod comes with very powerful, high modulus graphite blanks with a
balanced performance for maximum sensitivity to the high-quality guides secured
with the Kevlar wrapping. It has all these features at a very affordable price.
Features of the Dobyn FR 663C rod
i. It is 6'6" medium heavy casting rod with a very balanced performance
ii. It also features fast action and high control ability
iii. High modulus graphite blank for extreme sensitivity
iv. A Fuji reel seat for better control during the transfer of the feel of the fish and
increase durability
v. An AA grade cork grip with a hi-density Hypalon butt
vi. Line guides wrapped in Kevlar and sleep green threading accents so they can better
handle rough work
Although these spinning rod series has been introduced in the market recently, they
continue to carve a niche in the sector offering high quality and
high-performance rods. It is one of the best rods for Bait casting in the market
and highly suitable for saltwater inshore fishing.
This is a conventional boat rod that is most suitable for those who practice deep sea
fishing. The Fiblink Saltwater rod gives the fisherman more ability for jigging
and trolling rather than casting in the offshore deep seas. They provide the
strength and sensitivity to help fishermen detect light bites on lures and
handle heavy weight fish effectively.
Features of the Fiblink Saltwater Offshore Rod
i. A two-piece solid glass construction that provides for long durability and
strength for a long lifespan while also maintaining sensitivity
ii. Some of the line guides feature a corrosion resistant steel coating while others have
roller guides
iii. EVA style foam grips that provide for a comfortable grip without affecting the
sensitivity of the rod while increasing durability and incredibly lightweight
iv. They come in the 30 to 50-pound test line or the 50 to 80-pound lines
v. A great looking and appealing finish with a fluorescent tip that adds more visibility
in low light situations
vi. Premium stainless-steel ring fixed Turbo style guides
vii. Extreme exposure reel seat made of aluminum alloy with high corrosion resistance. They
are also extra heavy, powerful, versatile and flexible
viii. 6-inch saltwater trolling fishing rod
ix. It has extra heavy power with fast action
This incredible offshore rod comes with the above features as well as a one-year
guaranteed warranty. However, this rod offers incredible and very satisfactory
performance.
From all the above-reviewed fishing rods, there are several things that make a rod
incredibly suitable for cod fishing. The following are the most basic features
to look for in a fishing rod:
i. Power
For all your purposes, you should choose a rod that meets your expectations. Power is the
basic amount of force it would take to make a rod bend and is categorized as
ultralight, light, medium light, medium, medium heavy and heavy.
ii. Action
Action is the amount of the rod that flexes when loaded. The fast and extra-fast action
rods only flex at the tip while the slower action rods flex along their length.
Slower action rods mostly provide better casting while the fast action rods
allow for more accurate casting and setting the hook in larger fish.
iii. Length
When all other features remain constant, longer rods provide more distance for casting.
However, you should ensure that the length preferred offers comfort when using
the rod. Use the shorter rods when doing pier fishing or jigging spoons.
iv. Rod
Style
The style of the rod should meet your skill and experience. The rod style often determines
the length of casting.
v. Material
For all your fishing purposes, make sure you choose the fishing rod that fits your usage.
The two most common materials used are fiberglass and graphite. The fiberglass
rods are cheaper, tougher and better for battling larger fish while the
graphite rods offer greater sensitivity for even the slightest bites.
Other than having a good rod for cod fishing there are extra habits one can practice enhancing
the fishing experience and land more fish. This include:
 Using a jig instead of bait to reach the depths that cods occupy.
 Holding the rod at waist level, positioning your hands so that the handle and the line
can be held with ease.
For all your angler rod choice, the above information should be helpful when selecting the
top cod fishing rod for your use.