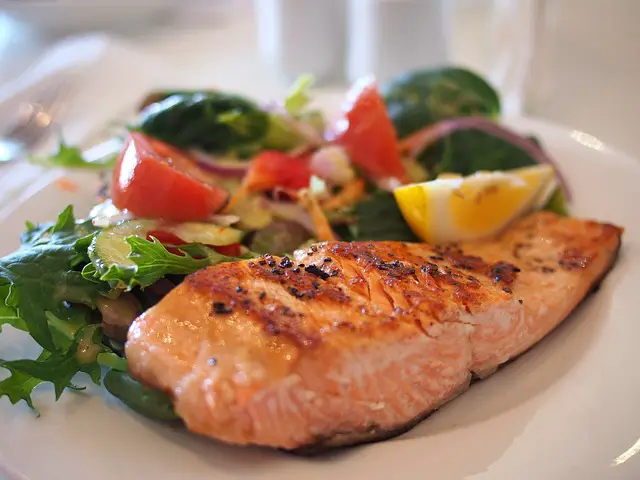 Tuna are among the most straightforward cuts of fish to cook since they are readily sold, and it does not require plenty of preparation. Tuna is a firm fleshy fish, and it can stand up intense direct heat during cooking making it perfect for frying and grilling.
When preparing your tuna steak place, it on a plate, and brushes every side with oil. Season your tuna with some sea salt and fresh ground black pepper. Salt helps to lock in the moisture of the tuna, so it won't dry out very much when it is being cooked. When it comes to marinating you can use lemon juice, chili flakes, and olive oil or mix chipotle paste or little harissa and brush it with oil before cooking. Tuna is no different from a regular steak, and it is cooking time will depend on how you like your tuna to be. The first thing to be cognizant of is how thick the piece of tuna is. A ½" piece will need different cook times versus 1" pieces.
When frying your tuna, use solid heavy-based frying or chargrill then heat it until hot before preparing your tuna. This will help in searing your steak rather than steaming. When using a BBQ when making your tuna, you will have to cook it over direct heat. Once you are done preparing, it is often ideal to leave your tuna resting under foil for about 3 to 4 minutes before serving.
Tuna with olive salad and marinated tomato
Using tomatoes and the Kalamata olives in preparing your tuna help in adding real color and flavor. This is a Mediterranean style of preparing tuna fish. Ingredients for making this meal include:
200 grams of ripe tomatoes on the vine.
12 halved and pitted Kalamata olives.
One tablespoon of capers.
Sea salt flakes.
A half thinly sliced red onions.
One tablespoon of olive oil.
One tablespoon of red wine vinegar.
Two steaks of tuna.
A handful of chopped flat-leaf parsley.
You can decide to use crusty bread for serving.
Method of preparation
The first step is to slice your tomatoes, place them on two plates then sprinkle using sea salt flakes. You will then mix capers, red onions, olives, vinegar, and the olive oils. Spoon over the tomatoes and leave for about 10 minutes.
The second step is to brush your tuna steak with some seasonings and oils, then give it five minutes for it to come to room temperature.
Third step is to heat your frying pan or skillet till hot, then sear your steak for about 1 to 2 minutes. The searing minutes will depend on the thickness; you will then let your steak rest for 2 minutes. You will serve your tuna on top of the tomato salad with parsley sprinkled over and crusty bread if you prefer.
About these recipe
This recipe is excellent for a person who is intolerant to gluten since it is gluten-free according to the industrial standards. Furthermore, this meal consists of 250 calories with fat content being 8.6 grams; carbohydrates are 5.3 grams, fiber content is 2.6 grams, proteins are 36.4 grams and sugar 4.7 grams.
Tuna confit
This is one of the easiest yet impressive tuna recipes. When you conflict your tuna, you will get a lovely meting texture. This tuna can be served warm with green beans and superior salad niçoise or a sprinkle of balsamic.
Ingredients
One tablespoon of sea salt flakes
Half a cup of caster sugar.
A few sprigs of oregano.
Four thick steaks of tuna.
One peeled lemon to six strips.
Half a cup of fennel seeds.
Olive oil.
Method of preparation
The first step is to mix salt, sugar, and the few springs of oregano and rub the mix over the steaks of tuna. Place your tuna steaks in an ovenproof dish that they can fit comfortably. You will then scatter the lemon peel, fennel seeds and peppercorns on top, cover the mixture and put it in a fridge for two hours. You will then take it out and leave it at room temperature for about 10 minutes. The second step is to heat your oven to approximately 350F. Pour olive oil to cover your tuna then cook using a stove for about 15 minutes. Take it out from the oven and leave it in the oil for another 10 minutes before serving it with oregano.
About this recipe
You should note that for a perfect test you should use the expensive extra-virgin olive oil such as the rosemary and olive oil focaccia in marinating your tuna.
This meal consists of 244 cal with fat content being 11.1 grams; sugars are 0.5 grams. Carbohydrates are 0.5 grams. Proteins are 35.4 grams, and fiber contents are 0.5 grams.
Tuna steak with red pepper sauce
A popular way to pep-up your tuna is by using the red pepper sauce recipe. Preparing tuna steak with red pepper sauce takes 30 minutes.
Ingredients
Two seeded and halved red peppers.
Olive oil.
200 grams of passata.
One garlic and crushed clove.
One tablespoon of red wine vinegar.
300 grams of new potatoes.
Half bunch chopped parsley.
Two small steaks of tuna.
Method of preparation
First, rub the red pepper halves with one tablespoon of olive oil and then put it under a hot grill. Grill the side with the skin for about 10 minutes until charred. Once it has cooled down peel off the skin and remove the seeds and stalk. If you want to use the passata, you can add a few tablespoons as you pulse the blender. In one tablespoon of olive oil, fry your garlic before adding the red pepper, vinegar, passata, and seasoning. You will then simmer for about 10 minutes. Boil your potatoes for 15 minutes until they become tender. With one tablespoon of olive oil season your tuna steak. For about 1 to 2 minutes, you can grill your tuna and when it is ready, serve it with sauce, few parsley leaves, and potatoes.
About this meal
This meal consists of 16.8 grams of fats, 40 grams of carbohydrates, 7.2 grams of fats, and 40.8 grams of proteins.