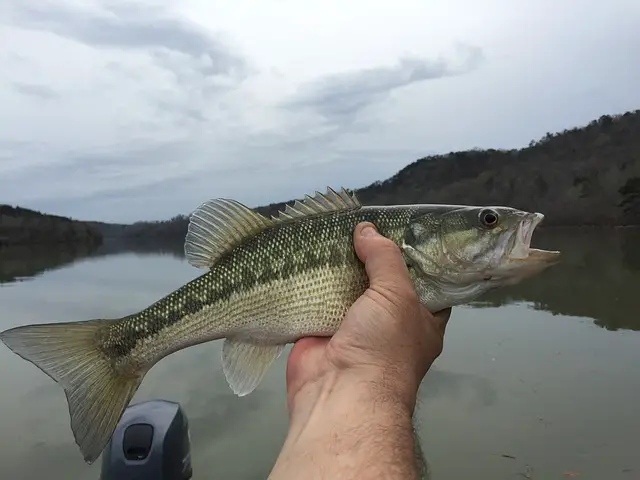 Selecting bass bait is equally as fun as fishing them. Choosing the perfect bass bait improves your chances of having a productive bass fishing trip. Bass, like most fish, have interests in certain types of food. Using these foods as bait guarantees that you won't go home empty-handed. The big question is: What is the best bait for bass? There are hundreds of bass baits out there that you can use. Filtering through this extensive list and choosing the best bait for bass fishing all by yourself can be a difficult task.
We have taken the initiative of providing you with the top 4 baits for bass fishing. We highly considered the baits ability to catch bass, versatility, ease of use and lots of other features.
1. Bass Jigs
It shouldn't come as a surprise that Bass Jigs are at the top of the list. This is mostly because they are quite versatile and not to mention, with a single jig, you can cover an entire water body. Bass jigs can be used to lure bass during any season. Unlike other types of bait, they can easily find their way into areas where other baits can't.
It is the number one choice of all expert bass fishermen. You should know that there are different types of jigs. Nonetheless, the Arkie jig is the most popular. They can be flipped, pitched and thanks to their deep structure they can swim anywhere. Moreover, bass jigs tend to attract big bass to bite. These are just but a few reasons why bass jigs are popular.
Bass Jig Top Pick:
The BiCO Box contains six or twelve BiCO Original jigs. The number depends on the size you will choose during purchase. BiCO is one of the most reputable brands in the fishing world. Their set of BiCO fishing jigs will greatly improve your bass fishing experience. These jigs also include quality hooks attached to them. They are also weedless and feature a quality paint job that won't fade after continuous use.
You can use the flambeau tackle box to store your set of bass fishing jigs. Since they are made lead-free, you won't be negatively affecting the aquatic life in any way. Another benefit of purchasing the BiCO Box is that each jig comes with a different color.
2. Plastic Worms
Rubber worms are also quite effective when it comes to bass fishing. The reason why they are among the best bait for bass is that rubber worms tend to be so lifelike to the point that when bass bite them, it usually feels like natural food. Moreover, since they are made of rubber, when a bass bites it, it will have to hold on longer into it. This allows you to catch it with ease. And as if that's not enough, out of all the bass baits, we can conclude that plastic worms are the most weedless. Provided you place the hook properly inside the bait, it can easily get inside all weedy areas with ease.
Plastic worms work best with Texas Rigs, Carolina Rigs, and Drop Shot Rigs. If you are fishing for bass in a weedy area and you intend to use plastic worms, we highly recommend that you use it with the Texas Rig.
Plastic Worm Top Choice:
This exceptional plastic worm bait for bass was designed and made by Gary Yamamoto. It looks and feels like an actual worm. Its design is a sure guarantee that a bass will try to take a bite from it. The Senko bait is quite versatile since it can be used with a Texas or a Carolina Rig. It's a simple plastic worm, but it is quite efficient in catching bass.
It is made from massive amounts of salt which are great at attracting fish, particularly bass. Rigging it weightlessly enables the Senko to move and slide imitating a real snail, therefore, attracting any bass in that area.
3. Spinner Baits
In third place, Spinner Baits can also help you catch lots of bass. They are capable of attracting bass while covering a huge water surface at high speed. Also, they are relatively weedless and make bass fishing a tad easier. One might question how spinner baits can be effective in catching fish yet they do have an unnatural look. Well, you will be amazed at how many bass you can catch with spinner baits. It so happens that when bass sees the spinnerbait on water, the flash from the blade tends to draw their interest and they try hard to make a bite for it. It is practically the role of the blade to attract bass by sight and sound.
Spinner Bait Top Pick:
Despite the KVD's odd appearance, it ranks as one of the best Spinner Baits in the market. Feel free to check how fellow anglers have commented positively on it in reviews. The KVD features a shirt with a tail made of natural colors. Its realistic look is amongst the many reasons as to why the KVD is effective when it comes to bass fishing. It features a premium hook and a perfect spinnerbait for bass fishing.
4. CrankBaits
Crankbaits are also a great lure for bass. They can cover a large water surface in a short duration while luring the bass to hook onto them. Crankbaits are ideal when used to target fish in open water or those hiding in deep cover. To most novice bass anglers, crankbaits are their number one choice for bass fishing. They come in various weights, sizes, and running depths. However, as effective as crankbaits are. The idea is to choose those that have the ideal color which can trigger bass into making a bite.
Crank Bait Top Pick:
The Proberos is a must have bait for every bass angler. It is well designed
to attract bass fish. Its excellent appearance is the reason why most fish will tend to be drawn towards it. The Proberos is made from high-performance ABS which is an eco-friendly material which is also study and quite durable. It can withstand frequent fish bites and serve you for an extended period. The pieces measure 3 inches long, and each has a unique color. With the Proberos Crank Baits, you are guaranteed of a productive bass fishing trip.
Final Thoughts
Without doubt, black bass is one of the most sought after game fish in all corners of the world. It is worth going to extra lengths when it comes to picking the best baits for bass fishing in conjunction with a good bass reel and rod. The above are the top four must have baits for bass fishing. Note that, the effectiveness of bass bait will vary from one angler to another. It is therefore up to you to explore the above four and favorite the one that will work best for you.