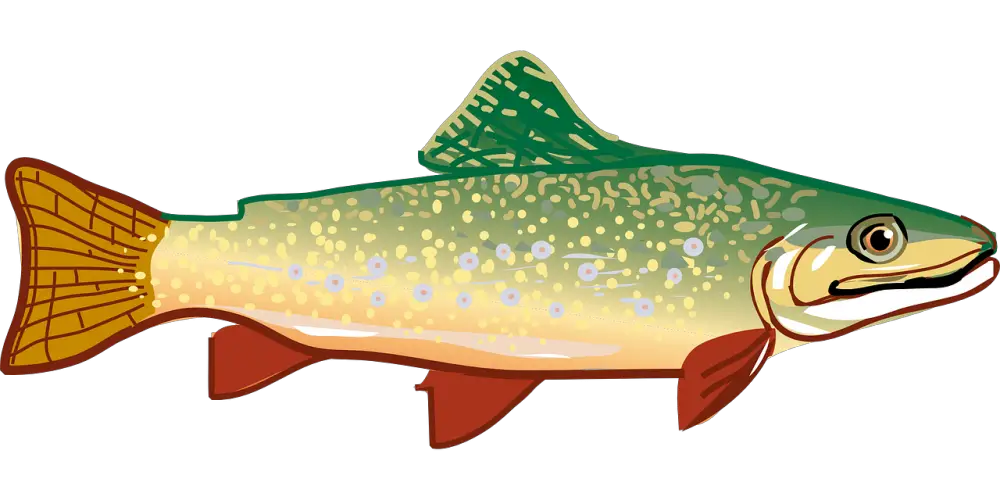 Trout fishing is quite popular in nearly all corners of the world. You can find trout
in rivers, creeks, and lakes. They prefer to swim in cold deep, water lakes.
It's why our guide is particularly targeting the best way to fish for trout in
a lake. The freshwater fish have dark green bodies accompanied by pale yellow
spots. They are also well known for putting up a good fight, and it's why you
need to be very keen when fishing for trout in a lake.
As mentioned above, trout prefer cold and deep waters. And, did you know that trout are also
one of the most accessible food sources for wildlife such as bears? This indicates,
the more remote a lake is, chances are you will find lots of trout swimming in
it. As an angler, you should first do some research on lakes that have
potentially have high numbers of trout.
You should also know that trout found in great lakes can grow to a massive size. Mostly
because there they get to feed on plenty of smaller fish. You should ensure you
bring the right gear that can put up with the fights.
There are two important rules to keep in mind when fishing for trout in a lake. First,
you should know that trout which is over a foot long does not feed on insects
and flies. Secondly, power bait only works on stocked trout. The power baits
might work if you are fishing for native trout and they will only take a bite
out of curiosity. If you intend on catching big trout, then make use of smaller
fish or flies.
Here are some of the common lures for trout fish.
The ideal bait to catch trout fish from a lake is by using creatures that trout eat. Make
sure you carry at least two of the bait types below.
• Critters such as Grasshoppers and beetles are common food for trout. They perceive them
as an easy snack. Drowning a live grasshopper could improve your odds of
catching some trout.
• Tubes also greatly imitate zooplankton and do get bit a lot.
• Swimbaits are the perfect bait for catching bigger trout.
• Worm imitators are also an excellent bait for catching trout. Bright colored worm
imitators are ideal since they are easily visible.
• Quite often, trout tend to scavenge on spawning beds of other fish. Therefore. Salmon
eggs also make good bait.
• Spinners are practically the number one choice of trout anglers from all over the world.
They can easily get bit anywhere, and their flapping blades are designed to add
flash to a river current.
• As mentioned earlier, power bait is also ideal when fishing for stocked trout.
Balling it up onto a hook could attract lots of trout.
• You can also use minnows, salmon or night crawlers as bait.
The above rod is the best when fishing for trout. It allows you to explore a variety of
fishing techniques. You should also note that the lighter the line is, the less
friction it will inflict with the water. And, it will also be able to sink to
the bottom with ease.
However, if you are targeting trout exceeding 30 pounds. Make sure that you use a heavier
rod.
Step 3: Make Use of The Following Techniques
Trout fishing requires a unique approach. As you may have heard, trout always put up
a good fight. To ensure that you catch trout from a lake with ease. Make use of
the following techniques.
• Consider The Depth
The depth at which you can get trout fish in a lake is very important. They mostly prefer
cold waters. It's why you must lower your bait deeper into the lake, especially
during warm seasons. For instance, during winter, trout can be found in a depth
of 10 feet. During spring, they move 35 feet deeper from the lake surface. To
even your odds of catching trout in a lake, you could invest in a depth finder.
It will make fishing easier.
Jigging is also an excellent technique that can be used when fishing for trout. All you must
do is identify an area where trout are concentrated in large numbers. Then
lower a spoon jig or a white buck jig with a bait. Make sure that it reaches
the bottom. From there slowly work your way up while jigging the line. This
results in your bait imitating a wounded fish. You can be assured that a trout
will try to make a bite. This technique works better if it is done from a boat.
• Trolling for Trout Is Equally Effective
At times, fish aren't concentrated in schools. Rather, they are scattered in different
locations. Trolling can help you catch a substantial amount of trout. With the
assistance of a depth and fish finder, you can troll for fish from a boat. Move
at a slow speed to avoid scaring them away. Using a weighted bait is more
advantageous since it will prevent the hook from rising to the surfaces as you
move around.
Step 4: Pay Keen Attention to The Fishing Line
Large and small trout fish react differently when they bite the bait. The bigger ones
tend to move away slowly. At times you may not even realize it. Small trout on
the other hand furiously swim away after biting, and you will notice frequent
vibrations of your fishing line.
To efficiently hook the trout after it has taken a bite, you should jerk the rod
one foot up. From there you should slowly reel the trout in. Always ensure you
keep the rod above your head while doing this.
Additional Tips on Ways to Fish for Trout in a Lake
With the above steps, you can be assured of leaving the lake with several trout in your
cooler. Also, make sure that the lake you choose has a big concentration of
lake trout. They are mostly found in North American Lakes. But you can also
find them in smaller concentrations in warmer areas. Here are some additional
tips on the best way to fish for trout in a lake.
• Find them in cool and deep waters. Feel free to ask for local anglers where the best
places to go for fishing are.
• Pay attention to the season we are in. It is best to refrain from fishing for trout
during middle of summer. It is usually extremely hot during this season in most
lakes.
• Fish for trout near drop-offs and ledges, if you are doing it from the shore. These
areas are usually cooler.
With the above information, you can be assured of successful trout fishing in a lake.
The important things to keep in mind is trout are found in deeper and cooler
areas of a lake. You should also stick to using live baits. And, the fishing
gear and reel you should bring along depends on the size of trout you wish to catch.