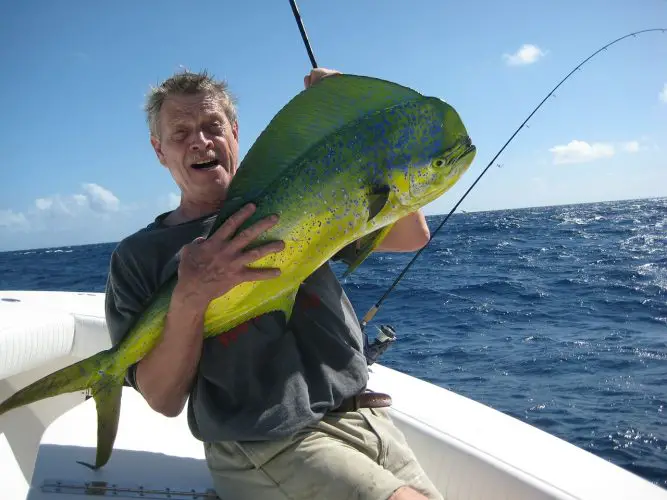 When Mahi Mahi fishing, it is important to keep a couple of things in mind in order to be
successful in catching this hearty fish. Due to the weight of the Mahi Mahi
fish, it is necessary to have a rod that can withstand a lot of weight and is
able to maneuver quickly in order to catch these fish. In addition to the type
of rod used, it is also important to use the proper reels. In the following
article, we will not only be going over the importance of the proper equipment,
but also the best techniques and tips to catch a Mahi Mahi fish. Knowing the
characteristics of this type of fish is also an important aspect in being
successful at catching them. These fish are very aggressive, agile, and strong.
Having a proper rod that can keep up with them is very important, and we
guarantee that every rod on this list will be able to withstand the Mahi Mahi
and aid you in your fishing endeavors.
What Type of Rod Should Be Used?
The rod type is a crucial element in being able to catch this type of hardy and fast fish.
There are two main types of rods that we will be going over. The type of rod
chosen should be able to withstand the weight of the fish, as well as the
ability to match the speed and agility. There are pros and cons to both types
of rods, and ultimately it boils down to not only personal preference, but the
way you fish as well.
Spinning Rods  
Any fisherman who has attempted to catch a dorado is well aware that these fish are
very fast and agile. Spinning rods will be able to hold up against both the
weight of the fish as well as the agility and maneuverability. When choosing
this type of rod, it is important to select one that can handle up to 30
pounds. Spinning rods are particularly useful for Mahi Mahi, as these fish can
be very agile. It is also important to note that what the spinning rods excel
in speed, they tend to lack in durability and the ability to catch bigger game.
Casting Rods
Most fisherman will be more acquainted with this type of rod, as it is the
traditional one used when catching most types of fish. This rod is particularly
useful for those individuals who rely on angling in order to catch fish. This
type of rod is generally favored less among fisherman due to its decreased
flexibility and slower reaction times. Although casting rods are extremely
resilient and able to withstand the weight needed to catch the Mahi Mahi, it is
important to keep in mind that they do lack speed and agility, compared to the
Spinning rods.
The Top 5 Mahi Mahi Fishing Rods  
This fishing rod is made of carbon composite with hard zirconium guide inserts. The grip on
this rod is made of the highest quality to ensure comfort, flexibility, and
durability. This rod weighs only 1.5 pounds and is extremely lightweight.
However, don't let that deter you from choosing this rod, as it is extremely
flexible and durable despite its weight and size. Boasting the perfect balance
and grip, it is able to handle heavy game such as the Mahi Mahi fish. Extremely
solid, this is a contender for any type of fishing you may be doing, but
especially with the more hearty and agile fish.
In the truest sense of the word, this rod is crafted exquisitely and absolutely can
handle the bigger game that you would be attempting to catch. You will be
surprised at how durable and easy to use this one is and would not be disappointed
at the size and the weight that is provided here. Especially when coupled with
a reel that can also withstand the size and speed of the dorado fish, you will
have bragging rights about the size of fish you were able to catch with this
rod.
Very basic in appearance, as the name suggests, this rod is strong and balanced; it will
be able to withstand the weight of larger game. This is to be expected, as it
is constructed using both graphite and fiberglass. The EVA grips are durable
and lightweight, making it easy to compete with the speed and agility of the
Mahi Mahi fish. Although this rod is a little heavier than the before mentioned
model, 3 pounds, it is still extremely flexible in its design and use. Although
this rod is flexible, it also has the necessary stiffness in order to keep up
with a spinning reel.  
Some rods may rely heavily on other features, but a major attraction with this rod is how
basic and traditional it is. It is important to keep in mind, however, that
this is a 1-piece rod, which may make transport a little more difficult in some
cases. Another small drawback is the tip tends to be a little more sensitive
and prone to damage. All in all, a great rod for the price and if you gravitate
more towards the traditional and minimalist type of rods, this is one that
absolutely should be considered.
This fishing rod has a great casting range and accuracy and features an American Tackle
Microwave Guide system. Made from premium IM8 graphite, this rod is extremely
durable. Features Blue Winn handles and professional hook keepers; this rod
would be a great addition to any type of fishing you may want to participate
in. As the name suggests, this rod is tournament grade and is made from
lightweight material. Great for strength and sensitivity without holding you
down, enabling you to successfully catch the most agile game. This rod also
boasts the ability to reduce the occurrence of wind knots, which makes casting
more accurate. The grip is incredibly comfortable and provides excellent rod
control for even the strongest and heaviest fish. This is a great option not
only for Mahi Mahi, but any type of fish you may want to catch.  
The rod itself is one of the lightest on the market, only weighing 8 ounces. Although
the hook keepers are professional grade, the placement of them can leave some
to be desired. However, the rod makes up for it with its weight and
flexibility. Even though it is extremely lightweight, don't let that deter you.
The backbone of this rod is strong enough to reel in the biggest fish.
This rod is of Japanese make, and is made from Japanese Toray Graphite blanks that can be
attributed to the extreme lightweight of this spinning rod. Although the rod
only weighs 2.7 pounds, it provides the sensitivity and durability needed to
keep up with the Mahi Mahi fish. This rod comes with titanium coated frames and
zirconium rings to ensure that you will have longer casting ranges and
durability when fishing. Coming with an EVA handle, this tournament quality rod
is both comfortable and stable. The quality of the rod is extremely high and
will suit whatever fishing needs you may have. When coupled with a spinning
reel, this rod is very flexible and adaptable, which is an aspect that is very
much appreciated when trying to catch a fish with the agility like the Mahi
Mahi. Even though the rod is lightweight and sensitive, it is very hearty and
will be able to stand up to heavy game.  
The tip on this rod is very much like the rest in the sense that it is sensitive enough
with being overly sensitive, and without losing the power needed. You will be
able to not only catch, but reel in some of the heavier game such as Mahi Mahi
with this impressive rod. In addition to the lightweight and durability of the
rod, the price is among the best on the market for the value.
The Fiblink rod is the last on the list, and with good reason. Quite an impressive fishing
rod, it is made from solid carbon fiber, with the enhanced sensitivity of
carbon composite. Comes with a travel case, making transportation an ease. This
is a 3-piece rod, which means that you will need to assemble it, but it is very
simple to do so. Another great thing about it being a rod that has three
sections is that it is incredibly easy to store. Due to the construction
materials, this rod is incredible durable, while being lightweight enough to
allow for flexibility and speed. Features stainless steel guides, with ceramic
inserts which will ensure there is no issues with the flow of your fishing
line. This rod has been tested to withstand fish up to 50 pounds with ease.  
Much like many rods in this category, this fishing rod has an EVA foam grip handle, for
comfort and flexibility. Regarding being able to relieve the rod from common
snags while fishing, you will be pleased to know that you will able to do so
with relative ease. Good for both offshore fishing and boat fishing, it can
hold up and withstand both environments well. Although it is worth mention that
what this rod overcompensates for in durability, it can lack in flexibility, in
some cases. Additionally, the tip has been known to be prone to damage, so it
is important to note to take extra precautions while using this rod for bigger
game.
Conclusion
Mahi Mahi are among the most challenging and enjoyable fish to catch. These fish are
extremely strong and agile, as well as aggressive. Using the right rod to catch
them is very important, and you will want to choose one that is strong,
durable, and flexible. Matching the speed and agility of the Mahi Mahi is also
important, and the right kind of rod will allow you to accomplish this. When it
comes to this type of fish, getting them to take the bait is only half of the
battle. You will want to have a rod and reel that can keep up with their
strength and ferocity.