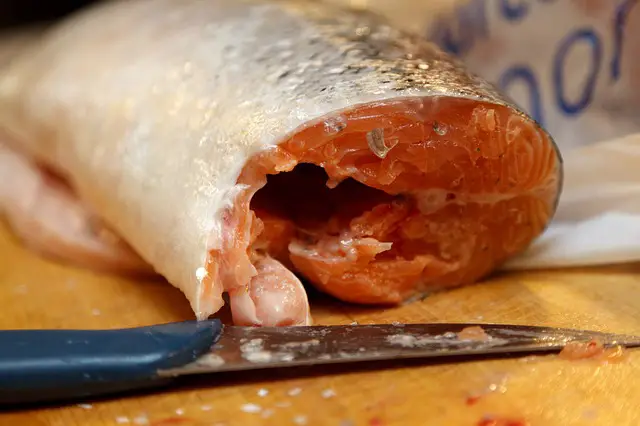 Do you plan on holding onto the fish you catch? Then having
a good fillet knife is essential. However, not all fillet knives are ideal for
you. We have compiled the best three fish fillet knives and a guide to help you
pick the best fish fillet knife. Before we get to the specifics, we must ask
ourselves: why do we need the best fillet knife for fish? The answer is quite
simple. Fish filleting is a dangerous task, bearing in mind the conditions in
which anglers must endure while doing it.
When you use a poor-quality fillet knife, there are several
disadvantages. One, you could end up hurting yourself, or it could take you
lots of time to fillet the fish. To make matters even worse, you could waste a
lot of protein from the fish that took you lots of effort to catch. The above reasons
why you should use a specialized fillet knife with a non-slip and comfortable
handle, easy to control blade which will save you time and effort when it comes
to filleting.
How to Pick the Best Fish Fillet Knife
Other than our shared love for fish, we are all different. Therefore,
the best choice of fish fillet knife for you will differ to that of another
angler. As much as we have listed for you below the best three fish fillet
knives, it is best also to give you a guide on how to choose the best fish
fillet knife. To do this, you will have to consider the fish fillet knife's
blade, handle, and sheath.
1. How to Choose the Blade?
• The Blade Length
This will depend on the type of fish you intend to catch.
There is a 4 inch, 6 inches, 7.5 inches and 9-inch blade. You should pick the
fillet knife that suits the size of the fish you intend to catch. If you are an
angler who plans on catching a variety of fish, we recommend you use buy varying
sizes to match the type of fish you catch most often.
• The Blades' Flexibility
The more flexible a blade is, the easier it will be for you
to remove the fish bones and get a higher amount of fillet. Since flexibility
has no scale of measurement, we will have to only stick to reputable fish
fillet manufacturers in the industry.
• The Blade Materials
The ideal material for a fish fillet blade should be of high
quality, rustproof, easy to clean, and sharpen. A blade coated with a non-stick
layer can also come in handy.
2. How to Choose the Handle?
• It must be Fit and Comfortable
Before picking a fish fillet handle, you should ensure that
it is fit for your hand. It should also be comfortable so that you don't tire
easily when filleting fish.
• Slip Resistant
Due to the dangerous nature of filleting, the ideal knife
should have an anti-slip design. This will guarantee maximum safety. The handle
should have a good grip and a rugged design to enhance friction.
3. What about the Sheath?
Most of us don't put much importance to the sheath, but if
you bear in mind how sharp filleting knives are, you will have to reconsider.
The ideal sheath should provide safety when being carried and stored. It should
also not blunt the knife.
What are The Top 3 Fish Fillet Knives?
The Bubba Blade is considered the best fillet knife for
professionals. It is unique when compared to other types of fillet knives. It
is ideal for fish like tuna, tarpon, striped bass, swordfish, redfish, marlin,
and wahoo. The 9-inch blade is best for big types of fish.
Features
• It has a 9 inch full-tang blade that is suitable for filleting
big game fish like the ones mentioned above.
• Its blade is also tapered, sharp, and very flexible. The
tip of the blade is designed to cut deep into big fish and penetrate the bones
or scales, thus allowing you to produce beautiful fillets.
• It is also designed to cut through small fish such as
panfish or bluegill, if necessary.
• Has a bolster that improves its strength and balance,
allowing you to fillet fish easily.
• Its titanium coated thus can resist both rust and
stickiness associated with cutting through fish.
• Boasts of a firm, safe and easy to manipulate the handle.
• The grips and pads trigger allow you to handle the knife
with easy precision.
• It is slip resistant and helps with safety.
• Let us also not forget that a knife is as good as its
sheath. It is water resistant and has a belt loop that will keep it secured
when stored.
Cons
• Its long blade length isn't suitable for filleting small fish.
• The handle features several grooves which makes cleaning
the knife a bit hard.
This particular fillet knife comes from a trusted blade
manufacturer. This is one of the reasons why it is this popular. It is a
must-have fillet knife for every professional angler.
Features
• The signature Rapala stainless steel blade is super flexible.
• It features a soft handle that is gentle on your hand.
• It has been molded to minimize slip-ups.
• It comes with a single stage sharpener that will allow you
to keep it sharp always.
• Comes with a sizeable sheath that can easily fit in your
belt.
• Its small size makes it a portable knife and ideal for
standard sized fish.
• The pointed tip enables precise cutting and splitting.
• The handle features a firm grip.
Cons
• On the downsides, however, this blade features a space
between the bolster and blade which accumulates dirt over time. You will have
to put in extra effort to clean it up.
The Dalstrong Gladiator is a well-crafted fillet knife
designed to provide efficiency and stability. This is a knife that you will
enjoy from the very first touch.
Features
• The blade is forged from ThyssenKrupp stainless steel,
which is a durable and flexible blade.
• It has a very sharp edge, which is handcrafted to enhance
resilience.
• The tapered design makes it superior even to the Bubba
Blade fillet knives.
• It's thin and allows you to gently slide through the body
of the fish while removing bones.
• Its eloquent design will enable you to clean it with ease.
• The handle is made from high-quality Spanish wood.
• Ergonomically shaped handle brings comfort to grip.
Cons
• Despite the handle being finely polished, it isn't as
durable compared to rubber.
The Bottom Line
Now that you are familiar with how to choose the
 best fish fillet knife, you can comfortably choose one from the above list of
best three fish fillet knives. When you to know where to fish and the species
you are likely to catch, you can easily narrow down to the ideal fillet knife
option. Once you buy one, don't forget to clean and sharpen it frequently.