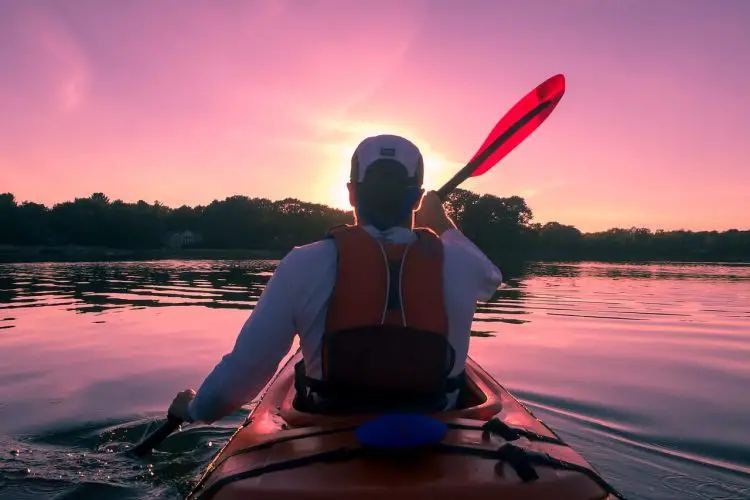 Kayak fishing is a sport that is becoming incredibly popular. Individuals who try it
are many times hooked and later find themselves looking for fishing kayaks at sporting
items stores. Many reasons make kayak fishing popular, but the most common ones
are exercise, affordability, the thrill of close quarters fishing, as well as
because kayaks can get launched from and fished in almost all kinds of water.
Once you get a new fishing kayak, it is time to begin outfitting it into an effective
fishing vessel. One of the initial additions to your fishing kayak will be a
good fish finder. Selecting the best fish finders for kayaks will require some
various considerations from those of a standard fishing boat. Here are some of
the top three fish finders you will find on the market for kayak fishing.
The Lowrance Hook is one of the top fish finders for kayaks which is ideally suitable for
anglers who like fishing from kayaks. It features a 4-inch display that has color,
which makes it easy to see in all weather conditions and from all angles. This
fish finder is also equipped with both Lowrance's DownScan Imaging features and
CHIRP sonar technology, which provides incredibly detailed fish images,
structure and cover as well.
One of the best things about the Lowrance Hook is its array of display views. It makes it
easy for you to easily and quickly switch between the zoom, traditional and
split-screen views, and monitor three separate data sets at the same time. The
menu interface is also intuitive and easy to use meaning you will spend less
time messing with your electronics and more time fishing.
Additionally, the fish finder comes with Lowrance's approved Advanced Signal Processing that
automatically adjusts for you different display parameters. The Hook 4x does
not have a GPS circuit fitted in it, but that has a good price to pay for such
a powerful fish finder.
Highlighted Features
• The transducer uses DownScan imaging and CHIRP technologies
• It has eight pre-loaded display viewpoints
• The Advanced Signal Processing feature automatically adjusts the performance of the
sonar
• Noise suppression technology provides clear images
• It has a high-quality screen which makes it easy to see in various weather conditions
This device is a small, but powerful fish finder that is full of great features, easy to transport
and mount on the kayak. It comes with 3.5 inch, full-color display that yields crisp
images which are easy to view in any weather condition. It's also equipped with
intuitive, and keypad-style controls that make it easy to navigate the screens and
access the data you require.
The Garmin Striker 4DV has an inbuilt GPS that will enable you to mark your preferred
fishing holes to help you locate them at a later fishing date. The most
impressive functionality of this fish finder is the sonar technologies fitted
into the unit. The fish finder uses a CHIRP-enabled transducer that will enable
you to quickly get the fish, as well as DownVu scanning sonar technology, a
Gamin's proprietary that provides an unparalleled view of the space beneath the
surface. For individuals who enjoy jigging in the deep waters, the Striker 4DV
also comes with an inbuilt flasher feature to make it pretty easy to see your
lure, the fish and the bottom at the same time.
Highlighted Features
• The transducer uses ClearVu and CHIRP technologies to give detailed images
• Inbuilt flasher is good for vertical jigging
• Intuitive keypad which makes it incredibly easy to navigate between the screens and
adjust parameters
• GPS functionality enables you to mark waypoints clearly
• Comes with trolling and transom motor mounting hardware
When looking for a fish finder for a kayak, the Raymarine Dragonfly is a great selection for
anglers who would like to take their fishing skills to new levels. This fish
finder is more expensive than most options on the market, but it offers several
functions and capabilities that most entry-level hooks rarely possess. The finder
comes with an inbuilt GPS circuit, and it uses DownVision sonar and CHIRP to
generate the best pictures possible. Also, a temperature sensor is usually
included in its transducer to help you predict the movements of fish better,
full color display while you move around your kayak and a ball-and-socket
swivel mount that makes it easy to adjust the fish finder. The unit is usually
WIFI ready and the push-button menu easy to use which helps you beam data to
your tablet or smartphone. Finally, this fish finder has a microSD card slot
which makes it easy to download or upload data.
Highlighted Features
• 72-channel GPS circuit offers speed and location data
• Provides both DownVision imaging and CHIRP technologies
• It comes with a microSD card port for easy transfer of data
• The automatic sonar optimization allows you to concentrate on fishing
• It's WI-FI ready
Conclusion
Kayaks have seen a dramatic increase in popularity in the recent past, making them a fun
time for families and individuals who feel comfortable on the waters. If you
are a fishing enthusiast, then an angler kayak might not be enough to help you
land the biggest catch. That's when using a fish finder in your kayak comes in
as a beneficial technology and they can assist you in bringing in a nice catch
whole having a fund time on the water for the day.