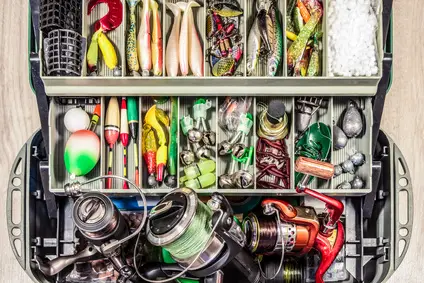 When most people think of fishing equipment, they think of rods, reels, and so many of the other little things that can make for a successful trip. Unfortunately, what they often don't think of is their tackle box. Indeed, practically everything else that might come to mind for successful fishing will cross the minds of most fishermen. These include lures, bobbers, line, weights, and much more, but in terms of keeping all of these together in one place, tackle boxes are most often left to come in second. Thus, at least in many cases, when fishermen do buy a tackle box they usually haven't considered everything that is available, especially in terms of what they need, and they don't buy one that is best suited for them.
The good news in all of this is that a good tackle box can provide much more than just a secure place to keep all of the accouterments of fishing. In fact, thanks to developments in technology, materials, and design, you can have almost anything you wish to have in a tackle box, and this goes for whether you want something very simple or very elaborate, very small, very large, or something in between.
This article will give you a general overview of what is available in tackle boxes. It is literally the "best of the best" in these handy little items. This article is designed to help you determine which tackle box is best for your use, but you will have to do your part too. Particularly, you will need to have a general idea of what your needs and wants are in a tackle box. We do the rest of the work for you.
Things That You Should Carry in Your Tackle Box
If you are completely honest with yourself, you will admit that there are a lot of things to consider when you decide that you want to buy a new tackle box. First, and most importantly, you need to determine what you plan on carrying in your tackle box. Here are a few of the most common items and how it is recommended that they be carried.
Extra line. The fisherman who has ever gotten to his fishing spot and opted to keep the same spool of line on his rod as he had on when he arrived is few and far between. For whatever the reason, many if not most fishermen will arrive with one spool on his rod and another (or more) in his tackle box. For this reason, as well as for general storage, a tackle box that is big enough will allow you to keep more than one extra spool of line with you at all times.
Hooks. Depending on what you determine is biting on a particular day, you will probably want to keep an assortment of fishing hooks with you, and if you are as particular about the way your tackle box smells as I am, you will probably want to keep your hooks separated from each other as well as from the other contents of your tackle box by keeping them in a smaller plastic box with petitions between them to keep from getting them mixed up and tangled.
Plastic worms and lures. Plastic worms and lures are another little item that is often best kept separate from the rest of your gear, if for no other reason to keep the smell to itself. If this doesn't bother you, you can always keep these in one of those little compartments that make up those fold-out shelves on most tackle boxes. Otherwise, you will need to keep them in another plastic container with petitions to keep them from getting tangled.
Bottled bait. Keeping your bottled bait in your tackle box is kind of a no-brainer since keeping this in the bottle it comes in is usually the best course of action. Further, there's just no reason to take it out and put it someplace else. Perhaps best of all is the fact that the bottles that these come in–plastic or glass–are usually small enough to keep compact wherever you put them. The caps that come with these are usually good enough to keep the smell in and keep them from leaking too.
First aid kit. Every experienced fisherman should know that he or she should never go out without a first aid kit, and a pretty good one at that. If you are going fishing, chances are good that you will be away from much of humanity, which includes medical care. As a result, you should have a good selection of basic first aid gear with you. This might include things like bandages, ointments, pliers to help you take a hook out of a hand, medical tape, disinfectants, pain killers, sunscreen, and more.
Floater or bobbers. The floater or bobber floats on the water surface while attached to the fishing line. When fish take a bite, and try to swim deeper, the floater will start to sink. You will then know for sure that you have a bite and it is not just the water current. You will then start to reel in your catch. There are two kinds of bobbers. There are the round ones that are either red or white. There are also the slip bobbers whose position on the line can be adjusted. Some people will go with the round bobbers that you attach to the line by clipping.The round bobber's position cannot be adjusted once it is attached on the line. The slip bobbers can slide up and down the line. They offer flexibility in terms of how deep in the water the line can go. However, they take time to rig. Many who use them say that the benefits are worth the effort. Others just prefer to use a cork with a stick in it. They attach the line to one end of the stick and that is all they need for a floater.
Sinkers. The bait and hooker are light and will often not go as deep as you may desire. The sinker, or weight, does what the name suggests. It sinks into the water, dragging the bait and hook with it. It should however not draw the floater with it. That means that its weight should not exceed the buoyancy of the floater. In the past, most sinkers were made of lead because of its weight. That is no longer the case because of environmental factors. You will therefore find sinkers made of bismuth, tungsten, and steel.
Line Cutter. You will need a line cutter that will cut the fishing line nicely. A nail clipper does that nice. You can have a sharp nice in its stead. However, as you will learn, it is easier to use a nail clipper than a knife, but a knife comes in useful if you plan on cleaning the fish before you head home.
Extra Hook. You need to carry extra hooks to be able to catch a variety of fish when you are using live bait. You can have the traditional "J" hook or the French hook. Depending on the type of fish you need to catch, you will need to have several hook sizes. They range from size 32, which is the smallest to size 19/0, which is the largest.
Needle Pliers. You will need needle pliers to get the hook out of the fish or catch once you reel it in. Sometime you may also need it to take the hook out of you. The needle pliers can also be used to cut the line when their cutting edge is still sharp.
Sunscreen. You need to have some sunscreen in your tackle box. It will help you protect your skin from sunburns. You are likely to forget applying some while still at home when you leave the house. Having it in your tackle box will remind you to use it.
Misc items. The fisherman who does not have their own little list of "extras" that they like to take with them on their trips has not been created. Nearly every fisherman has a special pair of pliers, hook extractor, tape, or any number of other things that they just like to have with them. These might be trivial or critical, but you need to make sure that you have room for them.
Things to Consider When Choosing a Tackle Box
Size. Without any reservations, whatsoever, the primary consideration when choosing any tackle box is size. It doesn't matter how many little compartments there are, how light it is, how durable it is, or anything else, if it isn't big enough for what you want to carry, it will be of only limited use to you. This is very much of an individual choice, but you are the only one who can make this choice. After all, what's big enough for one person will be a matchbox in size to another. On the other hand, there may be situations where you simply don't want to carry your entire tackle box with you, which might be a big disadvantage if a large one is all you have. In these cases, it might be a good idea to simply have a smaller compartmentalized box or a nylon folder that you can put a few essentials in for your trip. Every option has advantages and disadvantages.
Durability. The sad thing about durability is that just like size, it's almost always best determined by buying and using a tackle box. This is where the issue of reviews comes in handy. Some tackle boxes simply appear to be durable, but in the crucible of rough and tumble use, they fall apart. On the other hand, some tackle boxes that appear to be flimsy turn out to be very good.
Balance. Balance is something that not a lot of fishermen give much thought to until they encounter it out in the wild. Many fishermen, like me, learn about balance on our first fishing trips, when we first get started and open up our tackle boxes, only to have them fall over when they open the extensions. This is not usually a concern until the boxes get a little larger, but it can still be an issue.
Water Resistance. Whether you spend most of your time fishing from a boat, a pier, or a shoreline, chances are good that you have had the experience of having water splash into your tackle box. If it's open, there's not a lot you can do about it. If it's closed, there's a reasonable expectation that your gear will be dry or at least some approximation of it. This seems to be an issue that many makers have lost in recent years since in the early days of tackle boxes consisted mainly of tops that had lips over their bases. Today, however, with not only tops that flip open but with drawers on the fronts and sides, leakage is more common. Some makers have attempted to fix this problem with rubber seals, but most makers have not addressed this issue.
Space Allocation. It's one thing to have the space you need to carry everything you want to take with you but it's quite another to have space allocated the way you need it. If you have a lot of lures, for example, having plenty of room in the form of smaller compartments is nice, but if you are going to go for larger game, you will want to select a tackle box that can accommodate larger lures that you will need. it's the same sort of thing when you want larger space for your reels and other gear in a large main compartment.
Extra Space. Needs change over time. It's always nice to start out with a tackle box that has enough room in it to give you some extra before you really maximize its use later. It's kind of like having breathing room when you start out as opposed to wishing you had it later. It's also nice to have room for other things that you might decide later you want with you like your lunch or a snack. If you don't buy a tackle box that has all the room in it that you want, chances are good that you will be forced to use the pockets of your vest for these purposes, which only adds to the confusion of finding them.
Warranty. Always an important consideration for a tackle box is the warranty offered by the maker. Is there a guarantee? How long does it last? What does it cover? these are all important things to consider. Is the warranty period short? If it is, chances are good that the tackle box isn't well made and the maker will not stand behind it if there is a problem with it. On the other hand, if it is good for a significant period, chances are better than it is of better quality. These big differences say a lot about the product.
Hard or soft? One of the most recent innovations in tackle boxes is to make both hard and soft versions. Hard tackle boxes have stood their stead from time immortal, but in recent years, a number of makers have created soft versions of their products that are not only less expensive–but not necessarily–but lighter as well. Hard tackle boxes have numerous advantages such as being very durable, with the main disadvantage of them being heavy. Soft tackle boxes are not only lighter to carry (in weight as well as in terms of a shoulder strap that usually comes with it), but they are filled with plenty of smaller plastic boxes to house your gear. Another important feature of soft bags is that they can be compartmentalized so that you can take what you want and leave everything else at home while still having a bag to carry everything in.
The Best Tackle Boxes for Your Money
Plano 7771 Guide Series Tackle System
Are you looking for a tackle box that is plenty of tackle box for all of your needs? Perhaps the Plano 7771 Guide Series Tackle System is just what you need. It doesn't take much looking at this one before you determine that this is a lot of tackle box for your money. This one has more hatches and doors than you can possibly imagine to hold practically everything you carry. There's a huge bulk storage in the top, right along with a couple of smaller storage on each side of the top bulk door. Then, right below the main compartment are three drawers that will hold all of your lures, flies, and every other type of knick-knack you can possibly imagine. Perhaps the best part of these is the fact that everything is built at an angle, so it's easier to see when you are standing above it. Then, to make sure that everything inside stays clean and dry, there is a fold-down door across the front of the drawers. And at 18 x 9 x 10 inches, this box is plenty for all of your needs.
Pros
* Lots of room with lots of variance in compartment sizes gives you a lot of choices for what to keep where.
* Three bait racks keep everything separate and can be removed for use.
* Usable in all seasons.
* Very heavy duty.
* Gives you a lot of options for keeping things stored, making them easy to find.
* Over-sized collapsible handle makes it easy to carry.
Cons
* Larger size can carry more gear, making it heavy.
* Roomier top makes it easy to fall back when it's full.
Plano Angled Tackle System
You could easily call the Plano Angled Tackle System a modified version of the Plano 7771 Guide Series Tackle System above, but that would be giving a good product short stick. At 22 x 13 x 13 it's just a tad larger in width than the box above, but it's shorter and narrower than the other. It also has its own unique design, with the top cover that protects its own instead of serving as the main access to the storage area below. The clear top cover is not as deep as the box above, but it is divided differently for things like your sunglasses and all of the other little things that you might have with you on your trip. This only also has three removable compartments that make keeping things like your sunscreen and other things handy.
Pros
* Three generously-sized removable compartments for easy use.
* Product is designed for maximum efficiency.
* Low-cost
* Built to be heavy duty.
* Generously sized handle makes it easy to carry.
Cons
* Larger size can carry more gear, making it heavy.
Flambeau Tackle XL 3 Tray Tackle Box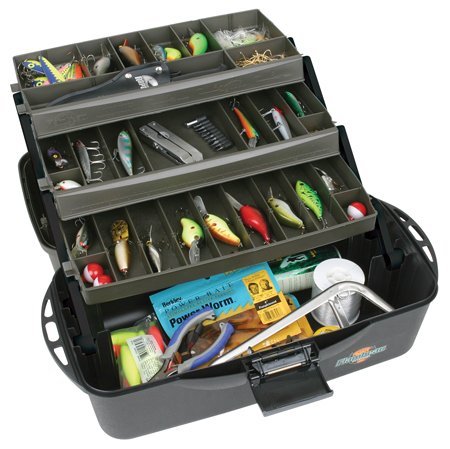 The Flambeau Tackle XL 3 Tray Tackle Box is more along the line of a traditional tackle box, without all the drawers and doors that are so popular today. It does have a nice three level extension which makes getting to your tackle and other fishing equipment easy, right along with a generously-sized bottom area for your reels, tackle and other larger things you bring with you. There are also dividers for both the levels as well as the large storage portion in the bottom, which makes keeping things separated nicely. Tongue and groove construction helps keep water out and adds to the stability of the construction.
Pros
* Tongue and groove construction, makes it more water resistant.
* Features more than 37 individual compartments for more storage options.
* Dividers are removable, which give you greater choices for storage.
* Extensions on each side of the box gives you more choices for ways to carry it.
Cons
* Handle is not well made.
Plano 2-Tray Tackle Box with Dual Top Access
To describe the Plano 2-Tray Tackle Box with Dual Top Access as simple, but mighty, is an easy job. It is basic, but it has plenty of everything to keep you well supplied for your trip. Inside it has two trays with a combined 14 to 24 separate compartments for your lures and other gizmos. It also has a brass lever latch which is strong enough to take a lot of punishment. Fit into the top of the box are two compartments that have doors to keep everything where you want it.
Pros
* Nice, basic design.
* Has either 14 or 25 storage compartments, depending on the tray you purchase.
* Design and materials ensure good quality construction.
* Handle is made of sturdy material and folds down to a convenient size.
* Lower-cost.
Cons
* May not be enough for more advanced fishermen.
Ready 2 Fish Tackle Box
The Ready 2 Fish Tackle Box has the unique feature that when you purchase it, it comes with everything you need already inside. In fact, when you select the Ready 2 Fish Tackle Box you have your choice of one tray with 62 pieces of tackle included inside or 132 pieces of assorted tackle when you select two or three tray versions. Some fishermen might consider this a limiting factor, but when you are starting out, it can be nice to have everything available to you to build on. The tongue and groove closure is one of the best to keep water at bay. There's also an instruction manual included to help you get started.
Pros
* Three compartment filled trays for more storage room.
* Includes a nice selection of basic fishing gear inside to get you started.
* At 14″ x 7.5″ x 8″, it's a good size for a kayaker or a beginner fisherman.
* A good tackle box that is fit for a beginner who doesn't want to sacrifice quality.
Cons
* More advanced fisherman could use this one, but they might feel limited by the selection.
Recommendation
So much of selecting a tackle box is a matter of opinion, not to mention needs, but when it comes right down to it, the Plano 7771 Guide Series Tackle System stands heads and shoulders above the rest. It might be true that the Plano 7771 Guide Series Tackle System is a lot of tackle box for the money, and although some fishermen, especially those who are younger and less experienced, might consider it a bit of overkill for what they need, there's also no reason not to get this one and simply grow into it.
This is not to say that the other tackle boxes included in this list aren't quality made and certainly worth the money. They are. In fact, for certain fishermen, such as those who are just getting started or aren't as experienced as others, lesser tackle boxes might be preferred. However, the Plano 7771 Guide Series Tackle System is still the best of the lot.
There are even some areas such as the quality of the materials and the design that make other—especially simpler designs—better for some fishermen than others, and these should be seriously considered for purchase, but the Plano 7771 Guide Series Tackle System is such a standout that it is hard to ignore it as a choice. The fact is that the Plano 7771 Guide Series Tackle System has so much to offer all fisherman that even if other brands and makes are considered, it's almost unavoidable to look favorably upon the Plano 7771 Guide Series Tackle System, and consider it the best tackle box.